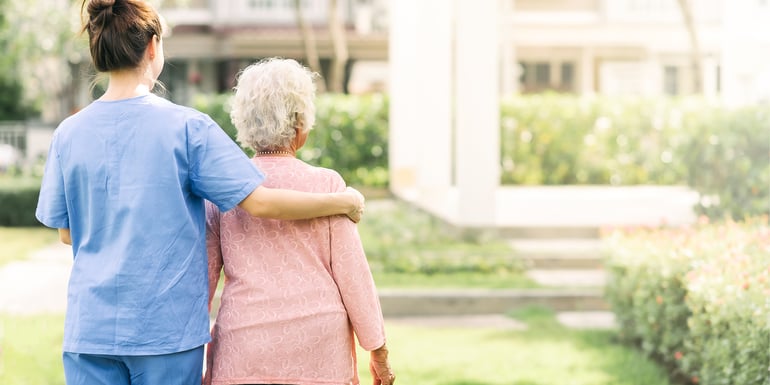 There are approximately 28,900 assisted living communities in the US, and more than 810,000 people reside in assisted living communities. Unless you work in long-term care or have already helped a loved one find a senior living community, visiting communities can be overwhelming, and the sheer amount of information you learn can leave you lost in a sea of confusion.
Visiting assisted living communities is an important part of doing research when considering long-term care options for an aging family member. Here are the top five first-tour mistakes to avoid.
Waiting until a crisis strikes to start touring senior living communities
Have you ever heard the saying, "hope for the best, prepare for the worst"? When a family member suddenly becomes ill or hospitalized and families need to coordinate care and support, a significant amount of stress is added when having to do it in a time crunch. While it is completely normal to hope your loved one can continue to age without the need of care and support from others, doing your research in advance can equip you with the information you would need in the event you have to make a quick decision about care.
Assuming your parent won't want to go with you for the first visit
Every person is different. Some parents will welcome the idea of exploring senior living communities. What most aging parents want from their adult children is to have been asked two simple questions: "What do you need?" and "What do you want?" Don't be afraid to ask your parent how they feel about you visiting communities should the need arise and be sure to ask them how they feel about visiting with you.
Assuming your parent will want to go with you for the first visit
Other parents may need time to warm up to the idea of assisted living. The thought of making a move may be startling or even seem completely unnecessary to your parent. While this idea may seem contradictory to the prior advice we just shared, being able to speak firsthand about the activities a community offers that your loved one would enjoy, the dining options or even apartment styles in some cases will be easier if you've done your homework first — including visiting communities. You know your parent best, so decide whether you think the first conversation about assisted living would be easier if you have already seen and experienced it yourself, or harder because your parent would prefer to be involved.
Focusing more on living arrangements than lifestyle and recreation
When you are unfamiliar with what assisted living has to offer, it's normal to focus first on what you know they have. Focusing on the apartment sizes and styles a community offers is an area families often focus on first, not because it is the most important part of making the decision but more because wrapping your mind around all that an assisted living community can offer your parent is foreign territory. The apartment you select if a move to assisted living happens is, of course, important, but equally important are the transportation options, socialization and recreation opportunities, and the quality and experience of the dining program. Be sure to do enough research before your tour, so that you have an idea of the areas of the community and the programs they offer that you'd like to spend more time talking about.
Not taking enough notes
If you've never explored assisted living before, be prepared for 'information overload' — especially if you will be visiting several communities within the same time frame. Taking good notes can make the comparison of one community to another easier and prevent you from feeling like you left quite a bit uncovered when you visited communities the first time.
Checklist: Questions to Ask When Touring an Assisted Living Community
Do you have an upcoming tour scheduled for an assisted living community? Or, is your family considering visiting communities in the near future? Download our free tour checklist, complete with 33 valuable questions to ask when touring.