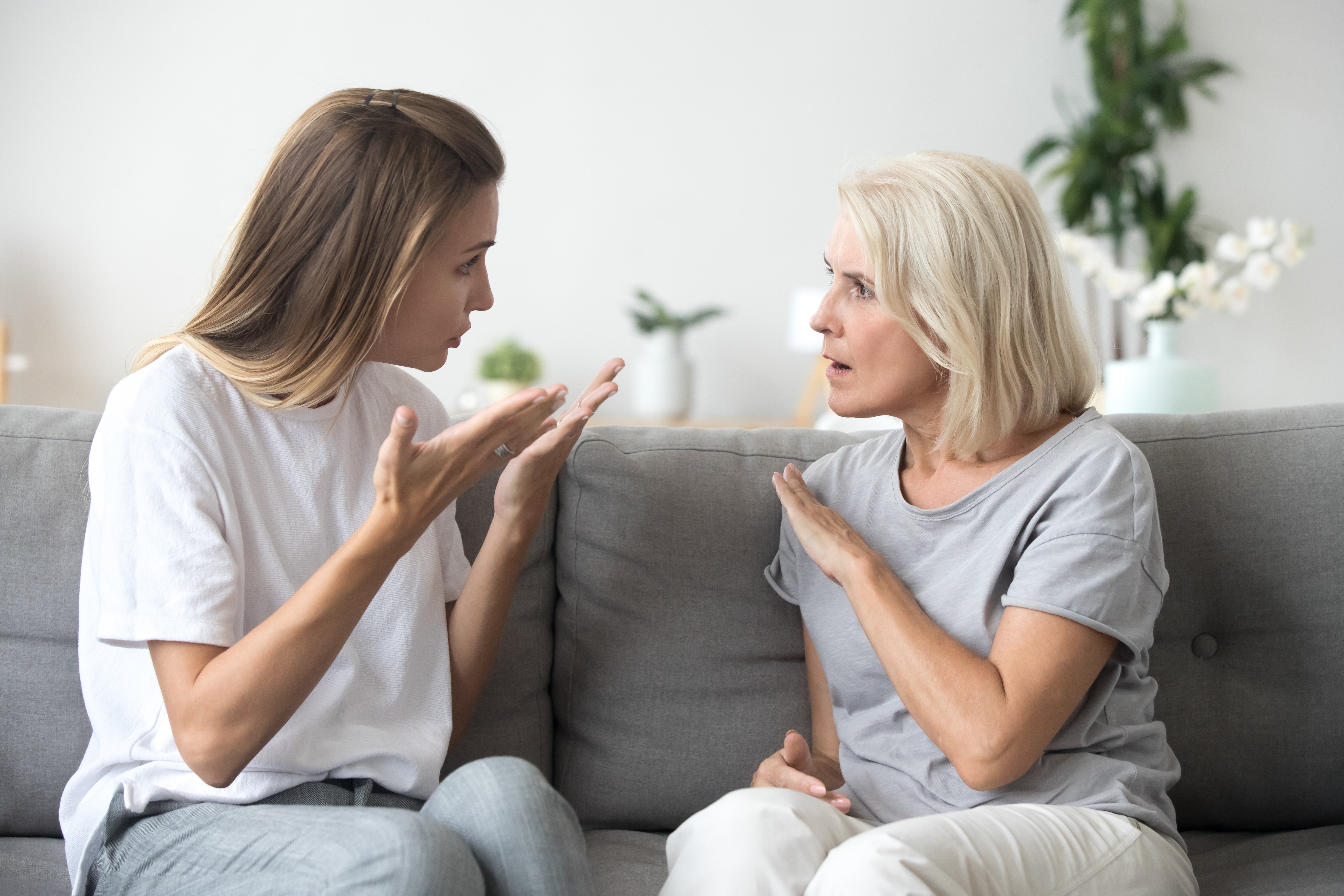 You might have fond memories of your parent holding your hand while walking you into school for the first time. Or, memories of a home-cooked dinner waiting on the table for you. Maybe, your parent supported you through your first break-up or gave you marital advice when things got "tough".
Parents play many roles in our lives. It can be hard to experience that the parent that
once raised you now relies on you because their body or mind is changing as they age.
Heightened emotions (by both you and your parent) coupled with trying to balance caring for a parent while attempting not to over-step your boundaries can be a recipe for disaster. Like any relationship, a heated conversation can make it difficult for you to give your parent the support they need. You run the risk of saying something that can put you at odds with your parent. Thankfully, sticking to a few tried and true guidelines can avoid this very dilemma.
Here are 5 things to avoid saying to your aging parent.
1. "The house was a mess last time I was there. You need a housekeeper."
There are many reasons you might see a parent avoid housework, even those that were once known as diligent in their housekeeping. Chronic pain, depression, or memory loss can all make keeping the house tidy a challenge.
Instead of putting your parent on the defensive, offer some potential solutions. Cleaning the house can be a good source of exercise. Offering to help your parent, if they are able, might be enough motivation to get things back in order. Try approaching the conversation by asking, "Is there anything I can do to help around the house?"
If they're not able to contribute, or cleaning the house on a regular basis is difficult to handle with your current schedule, consider asking your parent if they'd like to research housekeeping services so they don't have to worry about it. Consider recommending someone that a friend or neighbor might already know. For example, you might say, "Mom, I was talking with Sarah and her mom Susan really loves having her cleaning lady come in every week so she doesn't have to worry about the house. Is that something you've ever considered?"
If the neglect around the house spans beyond cleaning and includes things like unopened bills that are piling up, or an increase in the amount of time your parent spends in the home (which can lead to isolation) it might be also be a good time to start exploring assisted living options with your parent.
2. "You're too old to drive. It's time to give up the keys."
For some seniors, driving is a symbol of independence. Taking away the car keys not only jeopardizes their independence, but it also limits their access to essential services and puts them at risk for social isolation.
Instead of demanding the keys, decide together what signs or symptoms might lead you to both agree it's no longer safe for your loved one to drive anymore. The Hartford Center has created an "Agreement with My Family About Driving" that can serve as the starting point for meaningful discussions about driving.
Ease the transition from driver to passenger by working with your loved one to brainstorm ways they can adapt to changes in their driving performance while maintaining their mobility. Say something like, "The mall is having a sale. What if I pick you up at 10?"
3. "You already told me that."
Forgetfulness can be a normal part of aging. Although it can be frustrating to hear the same story over and over, it's not worth losing your patience and making your parent feel like you don't care enough to listen.
Instead, ask follow-up questions that might elicit more details or a different story. Engagement and purposeful living are key to living well. Reliving the good old days might help your parent feel like their life has had meaning and value. You can help by actively engaging in meaningful conversations — even if it's the second time you've had them.
If the forgetfulness has become frequent, there may be an underlying illness causing it and you should consult your parents primary physician.
4. "You shouldn't live alone anymore. It's time for assisted living."
Considering that most seniors want to stay in their home as they age, a statement like this can immediately put your parents on the defensive and make it difficult to have productive conversations about alternative solutions.
Instead of implying that assisted living communities are only for seniors who need around-the-clock assistance, talk about the benefits of proactively searching for the right assisted living community. Say something like, "Karen's parents just sold their house and moved to an assisted living community. Her mom loves that she doesn't have to do any more cooking or cleaning."
5. "I can't believe you missed that appointment."
Although your loved one is getting older and they might need a little more help than they once did, they are still an adult. Scolding, or "parenting your parent," is certain to cause friction in your relationship. It can lead to your parent withholding information from you and cause feelings of mistrust in your relationship.
Instead, ask if there is some way you could be helpful. Maybe your parent needs a Post-it note on the fridge, a reminder phone call in the morning, or a ride to the appointment. Perhaps transportation to doctors appointments is one more benefit of assisted living you can discuss with your parent. Either way, focus on offering gentle, potential solutions, rather than placing your parent in a position to be defensive, embarrassed or upset with you.
You won't get it right all the time. One day your parent might be grateful for your help and another completely frustrated with a simple suggestion to use a pill box. But knowing what to avoid saying, and how to begin some of the toughest conversations can improve the odds of finding a solution together.
Did you find this information helpful? Learn more in our eBook What Older Parents Really Want from Their Adult Children.