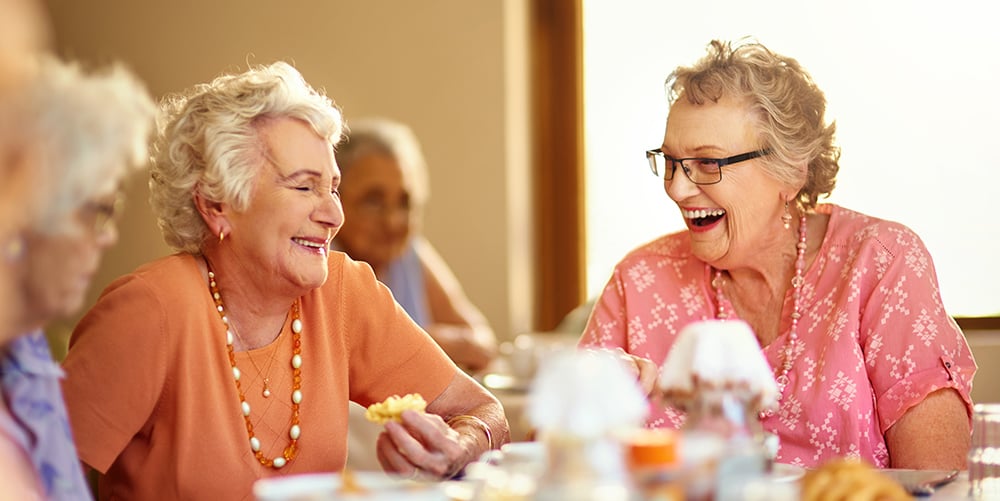 If you're searching for the best senior living community for your loved one, you might have noticed that with so many options for today's aging population, it can be hard making a decision. Communities may look similar, offer similar services, have dining and recreation programs, and boast about 24-hour staffing. But what truly makes Highgate Senior Living different?
Whether it's a specialized meal at breakfast, a soothing massage to help ease anxiety, or a hot air balloon ride, team members at Highgate are given both the flexibility to create custom programs from community to community, as well as the budget to do so.
Many times, residents who were fearful that they'd lose their independence moving to an assisted living or memory care community find that they gain more freedom after moving to a Highgate Senior Living Community with the "each day to the fullest" concept.
Here are five benefits of living at a Highgate Senior Living community.
1. A Holistic Approach to Care
Many senior living communities take a traditional approach to treating chronic pain and illnesses. This often includes relying on prescription medication to cure or treat diseases, illnesses, and injuries. But conventional medicine only addresses the physical dimension of health.
Highgate Senior Living, on the other hand, takes a holistic approach to care, where the focus is on the wellbeing of the whole person — body, mind, and spirit. By integrating conventional medicine and complementary therapies, such as aromatherapy and massage, holistic health care contributes to overall wellness more so than focusing on any single aspect of well-being.
Struggling with sleeplessness or anxiety? We've got four signature Highgate teas that can help. "With every pill, there is a side effect," says Amelia Adkins, Senior Director of Marketing for Highgate Senior Living. "We have high expectations for a low amount of medicine in our communities. If we can use tea to boost the immune system, help someone sleep better at night, improve digestion, or relax, with fewer side effects than using medication to treat these symptoms, it leads to happier, healthier residents."
Using traditional medicine to prevent and treat illnesses is certainly a part of holistic health care, but Highgate also supports residents in maintaining optimum health for their body, mind, emotions, and spirit.
"I really love our holistic approach, says LaTresh Walker, Healthcare Director at Highgate at Temecula. "It's what attracted me to Highgate."
2. A Fine-Dining Meal Experience

When it comes to the senior living dining experience, some communities forgo searing, braising, and seasoning in favor of convenience and expediency. Others purchase processed foods that can come high with preservatives and lack in taste. And others lack options overall when dining. Don't want to eat ground beef and mashed potatoes? Too bad.
At Highgate Senior Living, the dining program is overseen by Khalid Iraqui, who spent more than 20 years as a chef at high-end restaurants and hotels around the world. He focuses on freshness, using locally sourced sustainable ingredients, and variety. When residents sit down for a meal in the dining room, they order off a menu.
"Instead of having two choices for lunch and dinner, we are running a restaurant-style, almost 30-item menu where food is cooked to order," says Justin Mabunay, Executive Chef at HIghgate at Temecula. "It's a true restaurant-style experience."
Menus at Highgate Senior Living communities feature open-fire cowboy steak with grilled onions, seared salmon, hand-breaded eggplant parmesan, and spinach and cranberry salad. Gluten-free and vegetarian items are also available.
Before Marjorie moved into a Highgate Senior Living community, she was eating cereal, snack foods, and soda pop. "Her diet was very, very poor," says Jacque, Marjorie's daughter.
The community gave her nutritionally balanced meals and the opportunity to socialize. "She constantly tells everyone how good the food is here," Jacque says. "It's all she talks about. I really appreciate the fact that the food is healthy, too. I know my mom gets the nutrition she needs, and I don't have to worry about it. She has developed a lovely group of tight-knit friends. They will chat and laugh through meals and often carry on beyond the meal itself. Dining is now an 'experience' that she shares in the warm company of others, rather than sitting at the table by herself over a small meal."
To read a collection of stories from Highgate assisted living and memory care residents, including Marjorie, download our eBook How Highgate Senior Living Changed My Parent's Life.
3. Adventurous Activities

Most senior living communities stack the activities schedule with Bingo, sing-alongs, and exercise. At Highgate Senior Living communities, you'll find those on the calendar — if it's what the residents want.
"We spend a lot of time, energy, and effort talking about, thinking about, and programming to allow residents to continue to live a life of purpose each day," says Marjorie Todd, Chief Operating Officer at Highgate Senior Living. "Our in-depth personal interviews with each resident allow us to identify what it is that really makes them feel valuable and important and needed. Every thread of our programming calendar is rooted in what gives each resident a sense of purpose."
Residents' interests drive the activities calendar, so when residents at Highgate at Vancouver wanted to go ziplining, Executive Director Melanie Danelson and Life Enhancement Specialist Rose Zamudio-Mora took them.
"I'm always under the thinking if you believe they can do it, they can achieve it," Zamudio-Mora says. "You never underestimate anyone. When I train my Life Enhancement Specialists, I always say: 'Never underestimate your residents because they will shock you. Always try to achieve the best, and they're going to try to meet you.'"
Highgate residents have ridden in hot air balloons for the first time in their life, gone indoor skydiving, and flown an airplane — just to name a few things.
"Our philosophy is that we can do just about anything," says Christal Kowzan, Life Enhancement Coordinator at Highgate in Bellingham. "It might be heavily adapted, but if it exists and we can get to it, I'm going to try to get it done. They're still playful and want to have fun. There's nothing wrong with bingo, but there are other things besides bingo. We've done go-karts, ziplining, and indoor skydiving. Residents are proud of themselves. They have bragging rights and can't wait to tell their grandchildren."
4. Pets Are Welcome

Not all assisted living communities allow pets, but asking a loved one to give up their furry friend to move into senior living can be traumatic. Animals provide companionship that reduces depression, lessens boredom, and fosters social interactions. Plus, having a pet provides structure and a sense of purpose to daily life, and people with purpose tend to live longer, healthier, and happier lives.
Highgate communities not only offer pet-friendly environments but also have staff who help residents care for their pets to ensure the health and happiness of both the seniors and their pets.
5. Transportation Services

Many senior living communities have an activity bus that transports residents to and from community outings. But if a resident needs a ride to a doctor appointment, then they need to arrange transportation through family and friends.
Highgate Senior Living communities offer additional transportation services. Every Tuesday and Thursday, a bus takes residents to medical appointments. The rest of the week the bus shuttles residents to outings and activities.
While there are more than just these five reasons to move to a Highgate Senior Living community, you'll just have to visit us to find out the rest!
See you soon!