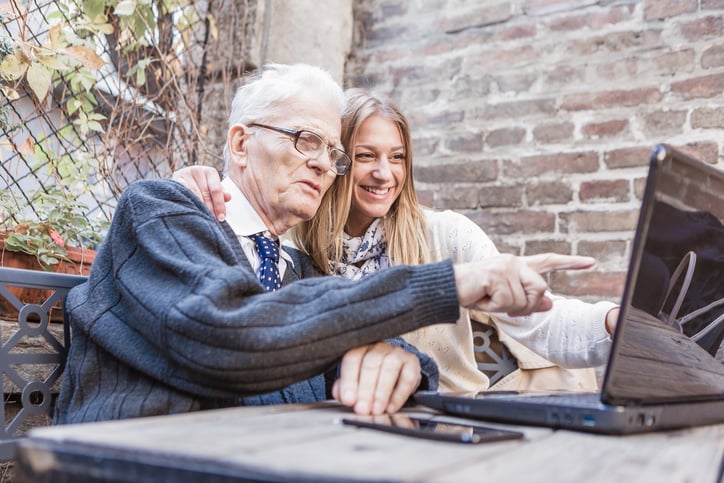 So you've had "The Talk" with your parents about assisted living, and now you're ready to start exploring your options.
With more than 28,000 assisted living residences in the U.S., looking for the right one can seem overwhelming, but it doesn't have to be. Here are five simple steps you can take to research assisted living communities before going on a tour.
1. Online Research
The best place to start your search is with a basic web search. Look for all the facilities in your area and see what your options are. The state or local Area Agency on Aging and the long-term care ombudsman's office can be great resources. The Departments of Health and Human Services for each state are also good resources for finding facilities.
When you're conducting your online research, ask these questions to start narrowing down your options:
Is the assisted living facility close to shops, doctor's offices, a pharmacy, and other important places?
Is the location convenient for family and friends to visit?
If the facility is not in your town, are there hotels nearby for when you visit the area?
Is the neighborhood generally considered safe, or is there a high crime rate? Crime Reports, Trulia, and NeighborhoodScout have tools to help you evaluate neighborhood safety and crime rate.
Can you find any information about the provider through the Better Business Bureau or your local Area Agency on Aging?
Remember that the first few places that pop up in a search are likely based on geography alone, not their ratings. So next, you want to check out reviews on Yelp or Google and visit their Facebook pages. Keep in mind, these are not verified sources, and people tend to gripe a lot online. Read as many as you can and see if any patterns develop in what reviewers are saying. If many of them mention the same high or low points, there may be some validity to it.
2. Ask Friends and Family for Recommendations
You can also solicit recommendations from people you trust. You know their sensibilities and they know yours. Ask your friends, your neighbors, and extended family if they've ever done research on the best assisted living communities — whether in your area or not — and inquire about how it turned out.
Was their loved one happy with the selection? Is there anything they wish they'd researched but didn't? Learn from their successes and mistakes. Maybe even talk to their loved ones who are living in a community.
3. Seek Referrals from a Physician
Speak with your or your loved one's physician. Have they recommended any senior living communities to other patients? Or are any of their patients currently living in a community that they seem happy with?
Their doctor will also be better equipped to judge a facility's level of preparedness for your loved one's specific needs and for medical emergencies. Learn what the doctor's priorities are in an assisted living facility.
4. Phone Research
When you have a selection of a few assisted living facilities, call and find out whether they're currently accepting new residents. If not, ask about their waiting lists. It's worth keeping in mind that families often put their names on waiting lists at several facilities, so the list may be shorter than it seems. Don't hesitate to put your name on a list just because the waiting time is significant.
You also want to ask for a general overview of their facilities. Be sure to ask:
5. Do a Thorough Background Check
Assisted living is regulated at the state level, which means it's not always easy to find information about the licensing and background of the facilities you are exploring. That's why it's important for you to do your homework.
Call state licensing to check the facility's records, complaints, and any violations, or visit their online portal to access inspections reports and other background information.
---
Need help narrowing down your options? Download our eBook, How to Find the Best Assisted Living Facility.
It includes everything you need to know from when you should start looking and where you can find facility violations, to the questions to ask when touring and the traits shared by all the best assisted living facilities.