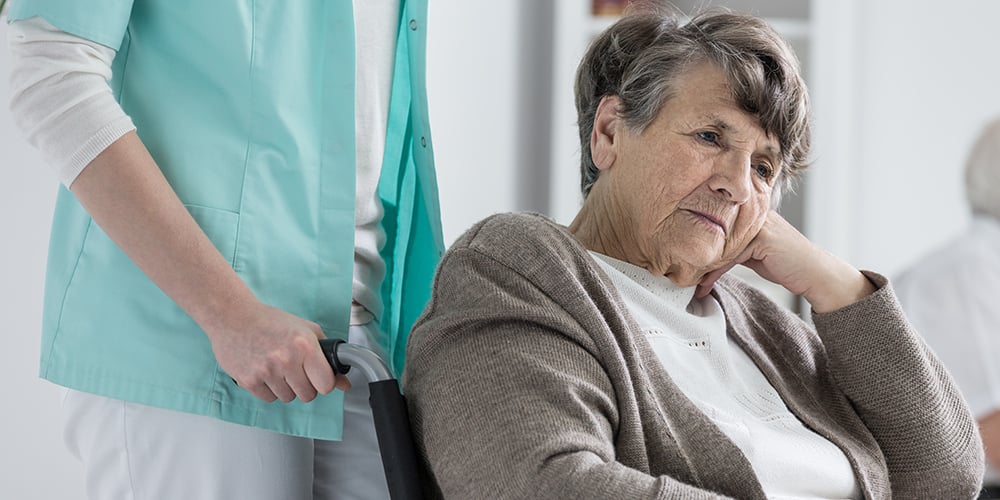 Moving a parent to an assisted living community is a big decision. One that families try their best to find an option that will provide the best care and support at an affordable price. But amidst the many phone calls, emails, glossy brochures, tours, and conversations required to choose the right assisted living community, some families fail to see some of the most common red flags.
Here are six red flags you should be on the lookout for as you visit communities.
1. Team Members Don't Greet You or Make Eye Contact
"When you walk into the community, you should be greeted with a warm handshake and a smile," says Tiffany Van Heel, Brand and Events Manager for Highgate Senior Living. "The person showing you around should want to get to know you, understand you and your loved one's interests and needs, and find out what is really important to you in your search for the right community."
If your visit doesn't begin with several questions about your family, your loved one, and the type of community you are looking for, be cautious that the community isn't truly focused on your needs, wants, and desires but instead is more focused on showcasing what they have to offer.
As you walk around the community, see if team members acknowledge you, or prefer to look busy and avoid eye contact. If the staff seem to have bad attitudes or they're simply too frantic to stop and say hi, it might be a sign that the community is lacking strong, involved leadership.
2. It's Too Quiet

As you walk through the community, do you see and hear residents socializing with one another? Are team members facilitating group activities? Are family and friends visiting with loved ones in the community living room? While some times of day are more active than others, if the community feels like a ghost-town, they may be lacking in activities and recreation offerings.
One of the biggest benefits offered by the best assisted living communities is an active, socially engaging lifestyle. When touring a community pay attention to how residents use common areas, or what kinds of activities are offered. If the community is too quiet or if you notice a lot of closed doors and empty rooms, it could be a sign that either the community is low in occupancy or that it doesn't cultivate a social environment for residents.
Ask if you can poke your head into the kitchen, too. If you walk into the kitchen at an assisted living community that prioritizes fresh, made-from-scratch food, it's bound to be a little chaotic.
"There's lots of commotion, which is good," says Khalid Iraqui, Highgate's Director of Dining Services. "When you have that noise, that means things are made from scratch. If you walk into a spotless kitchen with no sound, that's when you need to leave because you know they don't cook in there. Cooking is messy."
3. They Won't Let You See a Certain Part of the Community
When touring the community, make sure you get to see the entire community, including where the residents live. If the assisted living community also offers memory care and those residents live in another wing or unit, and it's possible your loved one may need memory care some day, make sure you see that part of the community, too.
If the team member giving you a tour won't allow you to go to the second floor or walk through the memory care community, that's definitely a red flag.
Also be wary if the community has visiting hours. You should be able to come and go as you please, joining your loved one for a meal or activity or checking out the place on nights and weekends. While the entrance might be secured after a certain time of night, typically assisted living residents are granted the same freedom they would have in an apartment complex.
4. They Don't Know Answers to Your Questions

A good way to get to know an assisted living community's philosophy is to ask "what if" questions related to things they might experience caring for your or your loved one and how they would handle that particular situation.
Your questions might include things like:
What if your parent has a fall in their apartment?

What if you wanted to reserve a common area for a family gathering?

What if my mom doesn't like what's on the menu for the day?

Are there any additional costs for activities that are off-site?
While periodically you may come across a person who is new to their position and doesn't have all the answers you are looking for, it's a red flag if they avoid answering the question altogether or don't tell you they will get back to you.
Take this checklist of questions to ask when touring an assisted living community with you, and make sure you get them answered, either by yourself or with a staff member. They'll help you compare communities and decide on the community that's right for you or your loved one.
5. There's Too Much TV Time

You have reason to be concerned if you walk into the community's living room and you see a row of residents passively watching TV. The best assisted living communities offer programs that engage residents' mind, body, and spirit. The community should have a calendar of activities and outings, such as book discussions, card groups, walking clubs or outings to local attractions, that encourage positive social relationships and improve social well-being.
If the care partners are flipping through magazines or gossiping around the water cooler instead of helping or engaging with residents, you might want to consider another community.
6. Your Gut Says Something Is Off
If you get a bad feeling in your gut when you tour a community, listen to it.
"It is all about finding the best fit and finding the best fit starts with finding the community with the best feel," Van Heel says. "The right assisted living community will feel cozy and comfortable, and the people you meet will genuinely care."
Looking for an assisted living community is like purchasing a home. Each community offers different amenities, apartment styles, dining options, recreational programs and transportation options and you rarely will find a community that offers every single thing you had hoped to find.
Before visiting communities, do your homework. Make a list of "must-have," "would be nice to have," and "absolutely won't settle for" criteria that best describe the assisted living community your family is searching for — and make sure these six assisted living red flags are on your absolutely-won't-settle-for list.
For more information about the best way to research assisted living options, traits the best assisted living communities share, and questions to ask when touring, download our eBook How to Find the Best Assisted Living Community.