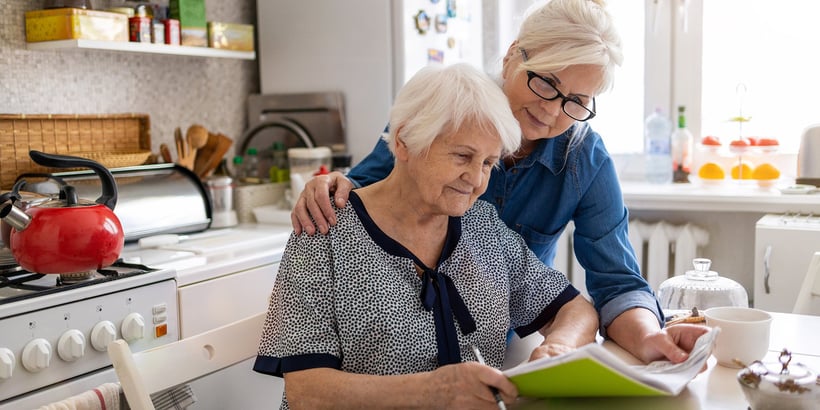 If there's one thing Louisa Torres, memory care coordinator of the Cottage at Highgate at Temecula, has learned about caring for people with memory loss, including her own mother, it's that everything comes down to your tone and approach.
"It's all in your tone. It's all in your approach," Torres says. "They will feel your tone before they hear your words."
If you're preparing to have difficult conversations with your loved one, such as about them moving to a memory care community, Torres recommends keeping this in mind.
"If you talk at people instead of to them, you're going to get an attitude back," she says. "People with dementia are no different."
That's the rub, isn't it? Your parent with dementia is different, and no doubt their memory loss is changing your relationship. While it can be hard to see your loved one forget the abilities that they once had or the memories they no longer can recall, they are still "in there." They aren't changing; the disease is progressing.
"I know the feeling of missing them while they're still there," Torres says. That's why she works in memory care, advocates for people with memory loss, and helps families navigate the caregiving journey.
Here are nine expert tips Torres shares, based on Teepa Snow's Positive Approach to Care, for helping a person living with dementia understand the need to move to memory care.
1. Keep a Positive, Upbeat, and Soft Tone
Typically, someone with dementia only fully understands 4 out of 10 words you say. Although your loved one might not always be able to comprehend the words that you're saying, they can notice your tone and rhythm. Be warm and open in your tone and mannerisms, and speak gently and soothingly.
"Approach with a softer tone," Torres says.
You don't need to speak in an overly simplified manner, but using a lower-than-usual pitch in your voice can help to focus your loved one's attention. Speaking slowly and clearly, in addition to using simpler words can help, too.
2. Avoid Overwhelming Statements
Avoid telling your loved one they need more help. Remember, dementia affects a person's reasoning and processing skills. If you try to convince your loved one that they have to move because they are unsafe or unable to manage their own affairs, you will only be met with resistance.
For example, avoid saying something like: "We all feel that your house is no longer safe for you, and we are helping to move you to a new home."
This may make them wonder what happened to their home? Why isn't it safe?
3. Help Them Feel Safe and Secure
Your loved one will likely reflect the same feelings that you do about the move. If you are constantly fretting and seem anxious, they likely will, too.
"I never say, 'You live here,' or 'This is your new home,'" Torres says. "I think that's very permanent to them and can cause fear and confusion."
To help them feel safe, secure, and cared for in their new surroundings, here are some helpful ways to talk about memory care:
A nice place
A place with a lot of caring people who make sure you have everything you need
A place that smells good
A place with a lot of happy sounds, music, and laughter
A place with beautiful décor and lighting
A place where your family and friends will love to spend time with you
4. Use the Phrase "For Right Now"
Another way to make the change feel less permanent or overwhelming is to use the phrase "for right now."
By incorporating "for right now," your loved one is less likely to resist because it makes the move feel less permanent.
5. Distract and Redirect
If your loved one does get agitated, tell them you appreciate them telling you how they feel and validate their emotions. Providing reassurance that you understand what they're feeling can decrease anxiety.
"Then change the subject," Torres says. "Suggest another activity such as taking a walk or getting a snack. It's all about redirection to whatever they like to do."
In Snow's positive, person-centered approach to care, relationships always come first. If you can tell that the topic of moving creates tension between you two and could escalate, back off and consider trying something else. Simply leaning over and giving them a hug can provide reassurance and show them that you appreciate being in their presence.
6. Make Visits to the Community Before Move-in Day
To increase warm familiarity and a sense of safety with the memory care community, invite your loved one to make a few visits for lunch or to attend other events with you. Some memory care communities might have day programs or transition programs, too, to give your loved one a sense of comfort and familiarity as frequently as necessary, for as long as necessary, before the move.
Allowing the memory care partners time to get to know your loved one and sharing their hobbies, likes and dislikes, passions and pastimes, will help the staff create an environment in which your loved one will thrive.
7. Go Easy on Yourself
Making mistakes is a huge part of dementia caregiving. Most of us are forced to learn as we go and have no training. As a result, it's not always easy to know what to do and we may unintentionally make things harder for ourselves and our loved one.
"I always tell care partners: 'You're going to make mistakes. You're going to do something wrong. Don't be afraid. It's going to make you a better care partner,'" Torres says.
8. Give Your Loved One Time to Adjust
Once your loved one officially moves in, it's best to give them some time to adjust on their own.
"We've asked the relatives to give it 30 days before they start coming and visiting," Torres says. "If you visit too soon, they may ask you to take them back home with you, which can make it harder for them to adapt."
9. Remember, Things Will Get Easier
As hard as it might seem right now, it's important to know that this will not always be so hard. Your parent will get used to their new memory care community and may come to love being there, thanks to the engaging programming, other residents, and personalized care.
Just remember that you made the right choice for your particular situation and are helping to give your parent the care and lifestyle they deserve.
You don't have to go through this alone. Memory care communities have teams of experts who will be able to work with you and your loved one to help with the transition. To learn more about how to find a quality community and questions to ask when touring, download our Guide to Memory Care and Dementia Communities.