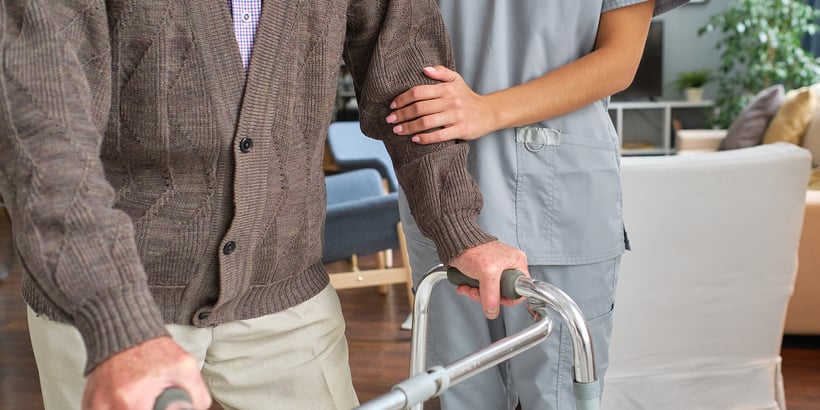 If you're exploring your memory care options in Flagstaff, Arizona, it probably means that your loved one's memory is getting worse. Maybe you're worried your dad isn't safe behind closed doors, or perhaps your spouse is walking out the front door while you're busy fixing lunch.
There are many reasons why people choose to seek memory care for a loved one, from wandering and safety concerns to health decline and caregiver burnout.
This blog will help you better understand what memory care is, how it's different from other types of senior living and nursing home care, the cost of memory care, and how to select the best option for your loved one.
What Is Memory Care?
Memory care communities are designed to meet the specific needs of individuals with memory loss. Depending on the community, residents may live in private or semi-private apartments, and the communal living spaces are secured to keep residents safe.
Memory care might be right for your loved one if they:
Are prone to wandering
Have poor safety awareness
Are having trouble eating and the ability to swallow is declining
Are experiencing changes in mood and behavior
Are declining in health or fighting off infections much of the time
Don't quite fit in assisted living anymore because they need a little more direction due to their memory loss
How Is Memory Care Different from Assisted Living and Nursing Home Care?
Many people with mild memory loss can thrive in assisted living, but when memory loss progresses, memory care becomes the next level of care. Memory care is a distinct form of long-term skilled nursing that specifically caters to patients with dementia and other types of memory problems.
Many assisted living communities and nursing homes have special memory care "neighborhoods" for people living with dementia. For example, Highgate at Flagstaff offers assisted living and memory care in the same building to allow residents to easily transition between these settings as their needs increase.
What Is the Best Type of Memory Care?
Every year, researchers develop a deeper understanding of dementia — its causes, diagnosis, treatment, and care. "Person-centered care" is becoming more understood and adopted by memory care communities across the United States.
Championed by internationally recognized dementia practitioner, educator, and founder of the Positive Approach to Care, Teepa Snow, person-centered care is a positive approach to caring for those with dementia and memory loss that is built around the needs of the individual and emphasizes care relationships.
But it's not the norm yet for all communities. If you believe a person-centered philosophy of care will best meet your needs and your loved one's needs, there are things to look for in a memory care community, including an emphasis on building relationships and feelings of home, not medical admission; focusing on possibilities, not limitations; and prioritizing holistic health.
Can Spouses Live Together in Memory Care?
If your spouse is struggling with memory loss but you aren't, or if one of your parents is and the other isn't, the responsibility can take an enormous emotional and physical toll, especially when added to the psychological distress of watching a loved one deteriorate. Fortunately, there are some memory care communities that cater to couples.
For example, at Highgate at Flagstaff, which has both assisted living and memory care available as well as a unique Couples Care program, couples can either live together in the same suite or be just a short walk away from each other regardless of care needs.
What Are Ways to Pay for Memory Care?
On average, memory care costs more than assisted living due to the higher level of care and supervision in a memory care community. Costs vary state to state and are affected by the level of care provided.
Most families pay out of their own pockets. If your loved one previously purchased long-term care insurance, that can be a big help. Families might also sell off personal assets or tap the "living benefits" on a life insurance policy to help cover the cost. In addition to Medicare, the person with dementia may qualify for a number of public programs.
How Do You Find a Quality Memory Care Community?
When choosing a memory care community, there are a number of factors to consider, including the staff, the community, the programs, and the type of treatment residents receive. What's most important is that you find a care community that is closely aligned with your loved one's needs.
Bringing a list of questions to each visit will help you compare the places you've visited when it comes down to making your final decision. Before making a decision, plan on making at least one unannounced visit. You'll learn whether the information you learned on your tour matches what happens day to day. Some communities will even encourage you to do so.
For more tips, articles, guides, checklists, and more, join our mailing list. You'll get things like advice for family caregivers, checklists to help you stay organized, and information about living in Flagstaff delivered right to your inbox.