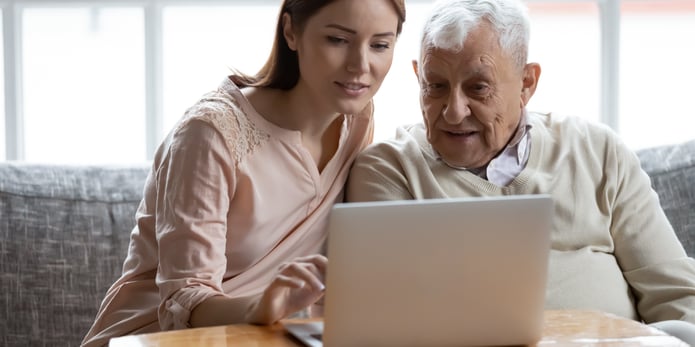 So you've noticed some signs that indicate that your loved one might really benefit from assisted living — but you're still not sure you should actually start touring communities.
We get it. Assisted living is a touchy subject for both parents and their adult children. Many older adults equate living in their home with freedom, independence, and happiness — even though they might be isolated and anxious. And many adult children caregivers feel sad and guilty about even suggesting that life might be better in an assisted living community.
But if you wait to learn about your options, are you really doing the best for your parent?
"I worked with a family that had not begun the search for senior living when their loved one suffered a stroke, which made living at home no longer a safe option," recalls Leslie Blum, Executive Director of Highgate at Flagstaff. "After being in rehab for a few weeks, the family was given a very short timeline in order to find assisted living — but they had no idea what communities had to offer."
So when is the right time to visit an assisted living community for the first time? Blum, who has over 18 years of experience at Highgate and decades of experience in senior living, offers her expert tips.
Start Searching When Your Parent Can Be Involved
Your parent might not be ready to move into assisted living anytime soon. But they deserve to be involved in decisions about their future care.
"It is very important to have conversations with your loved one, even if they are not ready to explore their options," Blum says. "You want your loved one to be as much a part of the process of choosing a senior living community as possible. What you may think that they would like or want may not be what they are truly looking for. Even if they are not in the market to move within the next couple of years, knowing what is available should they need to make a quick decision is best. By using a proactive approach, it allows for the resident and the families to both be part of the decision-making process."
Give Yourself Enough Time
Sometimes searching for the right assisted living community isn't just about finding the best fit. It also means putting the home on the market, coordinating a relocation, and arranging for movers.
"The timeline varies dramatically depending on each individual's situation," Blum says. "Sometimes a six-month time frame is an ideal timeline. Other times, a timeline of two weeks may be ideal."
"I worked with a gentleman who was caring for his spouse, who had memory loss," Blum continues. "While things were still going very well when he started his search, he knew that her memory would continue to deteriorate and that there would come a time when living at home would no longer work for them. Starting his search about 10 months prior to a move taking place gave him the opportunity to tour communities, learn the communities' level-of-care options, have a meal or participate in an activity at the community, and meet team members so he could feel confident in his decision."
Narrow Down Options, Then Go for a Tour
If your parent is resistant or has a hard time processing new information, consider narrowing down your options first:
Look at different community's websites, explore their Facebook pages, and read online reviews.

Ask family and friends for their recommendations.

Seek referrals from physicians.

Do a thorough background check.

Call remaining communities and ask "what if" questions related to things the assisted living community might experience caring for your loved one and how they would handle that particular situation.
Once you have one or two communities you think your parent would like, then bring them in for a tour — or a virtual tour.
Be Mindful of Waiting Lists
You might do all this research and find the perfect fit — only to discover there's a lengthy waiting list. That's normal.
The best assisted living communities tend to have waiting lists. But this can be very frustrating for seniors and their families. "Oftentimes, families do not take into consideration that a community may have a waiting list, and it may take a bit for the desired size suite to open up," Blum says.
This is why you want to start visiting communities sooner rather than later. Even if your loved one isn't ready to transition to assisted living yet, it's often the case that their first-choice community will not be available when you need it.
So if you find the right community, don't hesitate to put your name on a list. Although most assisted living communities require a deposit to be added to a waiting list, most of these deposits are completely refundable.
Don't Let Guilt Stop You from Planning for the Future
If you feel guilty thinking about moving your parent to assisted living, you're not alone. But don't let a long list of self-imposed oughts, shoulds, and musts stop you from taking care of your loved one by getting them the level of care they need.
The truth is: Your parents will continue to age, and sometimes professional care is necessary for the safety and comfort of your loved one (or for you to have some life apart from caregiving). Moving your loved one to assisted living protects both of your health and safety.
If you think that one day you will be faced with relocating your loved one to an assisted living community, the best way to address the situation is to anticipate it. "You need to be informed of the options that you have," Blum says.
Make decisions with your parents while they are still at a place to make such decisions. Keep your parents in the loop by visiting assisted living communities with them early on. This allows your parents to remain the decision-makers and can reduce any guilt you are feeling. Making an informed decision about assisted living is a potentially huge step toward alleviating guilt.
Ready to learn more about Highgate Senior Living? Request more information today.