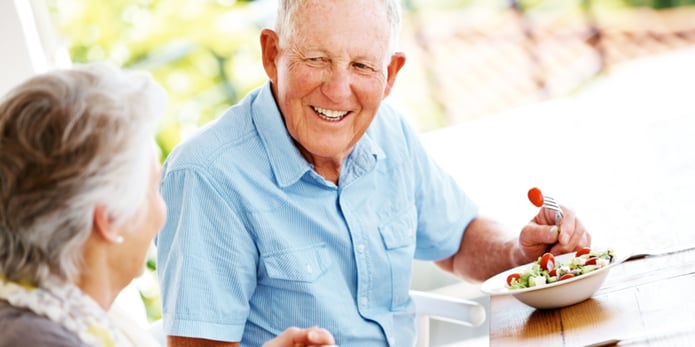 Maintaining good nutrition habits is tough for anyone, but it can be particularly difficult for a caregiver and their aging loved one.
Maybe your loved one is on a special diet or only has an appetite for certain things. You might also be cooking for a spouse, children, or grandkids, too. And, of course, the time and energy you have available are limited.
However, you should still strive to eat well. Why? Not only does diet play a role in disease risk and physical health. Your food choices also determine your moods. So, although the cake, salty chips, and red meat might taste good right now, they will drag you down later.
At Highgate Senior Living, Director of Dining Services Khalid Iraqui and his team of Executive Chefs who run the kitchens at Highgate communities focus on foods that nourish the mind, body, and spirit.
"The residents have quite the sweet tooth, so perfectly ripened fresh fruit is always a must," says Justin Mabunay, Executive Chef at Highgate at Temecula. "Also, they really love their classics, such as eggplant parmesan, so it is important to have a tangy tomato sauce with not too much sweetness and proper herbs and seasoning. We must go through 80 pounds of bananas a week and 120 pounds of fresh-cut romaine for their salads a week!"
Importance of Fruits and Veggies for Seniors
Research shows only 21 to 37 percent of men and 29 to 45 percent of women ages 65 and older eat five or more daily servings of fruits and vegetables, which is the minimum amount recommended for good nutrition.
Eating plenty of fruits and vegetables is especially important as you get older because the nutrients and fiber in these foods can help reduce high blood pressure, lower the risk of heart disease and stroke, and stave off eye and digestive problems.
So how do you increase your loved one's fruit and veggie intake? Here are seven fruit and veggie recipes from the Highgate Senior Living kitchen.
Eggplant Parmesan from the Highgate at Temecula Kitchen
What you'll need:
1 whole fresh eggplant

3 cups Italian-style breadcrumbs

1 cup panko breadcrumbs

2 cups all-purpose flour

4 eggs

1/2 cup milk

Salt to taste

Pepper to taste
Peel the eggplant and cut into 1/2-inch cutlets. In three containers, prepare a breading station with the first container being all-purpose flour, salt, and pepper; the second an egg wash mixture with the eggs and milk whisked together; and the last with the Italian breadcrumbs and panko breadcrumbs for a crispier texture.
First, dip a cutlet into the flour and shake off excess. Then dip into the egg wash and let excess drip off. Lastly, dip into the breadcrumbs and place on parchment on a sheet pan. You can freeze these cutlets and fry at 350°F from frozen to order. When they float and have good color, they are done. Finish the cutlets with warm marinara sauce and melty mozzarella in the oven for a minute.
Mediterranean Chickpea Salad from the Highgate at Prescott Kitchen
What you'll need:
1 (15.5 ounces) can low-sodium chickpeas, drained and rinsed

1/2 pint cherry tomatoes, quartered

1 cucumber, seeded and chopped

4 ounces mozzarella cheese, cut into 1/2-inch cubes

1/4 red onion, finely chopped

2 tablespoons coarsely chopped fresh parsley

1 tablespoon lemon juice

1 pack of adobo pepper seasoning

1/4 cup extra-virgin olive oil
In a medium mixing bowl, gently stir together chickpeas, tomatoes, cucumbers, cheese, onions, and parsley until combined; set aside. In a separate medium bowl, stir together lemon juice and adobo seasoning. Using a whisk, add olive oil in a slow steady stream, whisking constantly until oil is well incorporated. Toss olive-oil-lemon dressing with reserved vegetables until coated completely. Serve chilled or at room temperature.
Asian Cucumber Salad from the Highgate at Vancouver Kitchen
What you'll need:
5 English cucumbers

1 large red onion

1 cup rice wine vinegar

1 cup white granulated sugar

1 cup water

1 tablespoon salt

1/2 tablespoon pepper
Peel, de-seed, and julienne the cucumber and onion. Bring water, sugar, salt, and vinegar to a boil. Let cool, and combine all ingredients. Let marinate for two hours before serving.
Watermelon and Feta Salad with Arugula and Spinach from the Highgate at Prescott Kitchen
What you'll need:
3 tablespoons extra-virgin olive oil

2 teaspoons white balsamic vinegar

1/2 teaspoon kosher salt

2 cups arugula

2 cups baby spinach leaves

1 cup thinly sliced red onion

1 cup grape tomatoes, halved

1/2 cup crumbled feta cheese

2 cups bite-sized watermelon chunks
Whisk the olive oil, white balsamic vinegar, and salt together in a small bowl; set aside. Combine the arugula, spinach, onions, and tomatoes in a large salad bowl. Drizzle the vinaigrette over the salad mixture; toss to coat. Add the feta cheese and watermelon to serve.
"We served the salads a few weeks ago and the residents loved them," says Debra McNeil, Executive Chef at Highgate at Prescott.
Mango and Pineapple Cup from the Highgate at Great Falls Kitchen
What you'll need:
Mango

Pineapple

Fresh mint
Cut mango and pineapple into about 1-inch pieces and put into a bowl. Chop fresh mint and mix in with the mango and pineapple. Let chill in the fridge for an hour. You can also add star fruit, papaya, banana, or jackfruit.
"Our residents love this dish because it's very light when they just want a snack," says Highgate at Great Falls Chef Ron Blum.
Blueberry Crumb Bars from the Highgate at Prescott Kitchen
What you'll need:
1 cup white sugar

1 teaspoon baking powder

3 cups all-purpose flour

1 cup shortening ("I like to use butter," says Executive Chef Debra McNeil.)

1 egg

1/4 teaspoon salt (optional)

1 pinch ground cinnamon

4 cups fresh blueberries

1/2 cup white sugar

3 teaspoons cornstarch
Preheat the oven to 375°F. Grease a 9" x 13" inch pan. In a medium bowl, stir together 1 cup sugar, 3 cups flour, and baking powder. Mix in salt and cinnamon, if desired. Use a fork or pastry cutter to blend in the shortening and egg. Dough will be crumbly. Press half of the dough into the prepared pan evenly. In another bowl, stir together the sugar and cornstarch. Mixing in the blueberries. Sprinkle the blueberry mixture evenly over the crust. Crumble remaining dough over the berry layer. Bake in the preheated oven for 45 minutes or until the top is slightly brown. Cool completely before cutting into squares.
Debra McNeil, Executive Chef at Highgate at Prescott shares, "The crumb bar is an all-time favorite and can be done with any type of fruit or fruit fillings."
Highgate Health-Bar Granola and Yogurt Parfait from the Highgate at Temecula Kitchen
What you'll need:
3 cups walnuts, toasted, 1/2 finely ground and 1/2 coarsely chopped

2 cups pitted dates

3 cups dried cranberries

3 cups old-fashioned oats, finely ground

4 tablespoons oat bran

1/3 cup ground flaxseed

4 tablespoons wheat germ

1 teaspoon coarse salt

1 teaspoon ground cinnamon

1/3 cup brown-rice syrup or honey

1/4 cup blueberries

1/2 cup strawberries

1/2 cup strawberry yogurt

1/2 cup vanilla yogurt

1 tablespoon agave syrup
To make the granola, preheat the oven to 325°F. Place dates in a medium saucepan, cover with water, and bring to a simmer. Drain. Place and puree in a food processor until smooth. Coat an 18" x 13" baking pan with cooking spray. Mix oats, nuts, cranberries, bran, flaxseed, wheat germ, salt, and cinnamon in a large bowl. Mix in date puree and brown-rice syrup or honey. Spread mixture into pan. Bake until lightly golden, about 25 minutes, stirring halfway (for extra-clumpy granola, press the stirred granola down with your spatula to create a more even layer). The granola will further crisp up as it cools. Let the granola cool completely, undisturbed (at least 45 minutes). Break the granola into pieces with your hands if you want to retain big chunks, or stir it around with a spoon if you don't want extra-clumpy granola.
"I like to use our Walnut Cranberry Bar recipe to make the granola," Mabunay says. "I usually add a bit of olive oil to keep the bars from forming so I can make a granola."
To help residents eat nutritious and delicious fruits and veggies, Highgate developed eight different types of health bars made with all-natural ingredients that not only promote everything from a stronger immune system to healthy joints and bones and lower cholesterol but also taste good.
Download our Health Bar Recipe Book to find easy, delicious health bar recipes that can help strengthen the immune system, regulate blood pressure, and increase brain function.