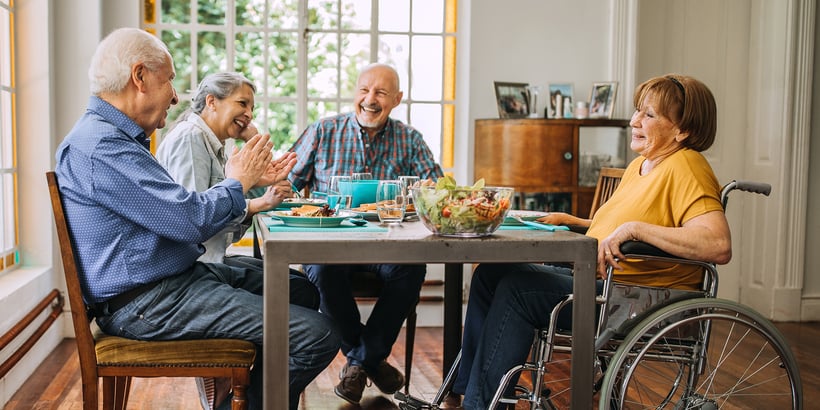 When you think about assisted living, you might imagine something resembling a facility — something cold and institutional. At Highgate, our residents and team members tell us that they feel like they're part of a community.
"The sense of community is there," says Michael, a Highgate at Temecula resident. "You really feel it on a day-to-day basis."
In this blog, we explore the differences between an assisted living facility and an assisted living community. You'll also hear from Highgate residents and team members who share what the word "community" means to them and how Highgate offers them community, connection, and care.
A Community, Not A Facility
No one wants to put their loved one in a "facility." The word doesn't sound appealing. It's hard not to think that the people who live in assisted living facilities aren't able to embrace the things that make up a community — which is, of course, far from true.
Because what is a community? According to the dictionary, "community" is:
A group of people who live in the same area (such as a city, town, or neighborhood)
A group of people who have the same interests, religion, race, etc.
A group of nations
The word "community" is much more descriptive of what assisted living can offer. At Highgate Senior Living, residents enjoy community life on a daily basis: They have easy access to a strong social environment and support network. The Resident Ambassador program connects new residents to seasoned residents with like interests. And there are countless opportunities to give back to the larger community through Purposeful Living projects.
In medical model assisted living facilities, the focus is primarily on the delivery of medical care and support. You may notice medication carts in the hallway, employees wearing medical scrubs as a uniform, and a centrally located nurses station when you walk in the door.
By contrast, social model assisted living communities, like Highgate, intentionally focus on creating community through providing opportunities to build a sense of purpose; fostering a sense of kinship, camaraderie, and connectedness among residents and team members alike; and appreciating the learning that occurs from multiple points of view. These communities typically resemble an apartment complex, and emphasis is on maintaining or improving an active lifestyle with a focus on quality recreational programs and flexible dining programs.
What Community Means to Me
We asked six Highgate residents and one team member what the word "community" means to them. Here's what they had to say.
A Group of People Who Like to Get Together
"Community is a group of people who like to get together," says Marjorie, a resident at Highgate at Great Falls. "People who like to meet. Some wait to get down to lunch to see other people. Sitting in a room is not an answer here to me, although I spend a lot of time there because I do most of my personal work there. But seeing others and finding out what's going on in different lives — it's an education. And I always like to add to education. You can tell I'm a school teacher."
All of Us Working Together
"In this setting, I think it means all of us working together," says Laverne, a resident at Highgate at Great Falls. "The caregivers working with the people to help them be as good as they can be. And the give and take. There's a lot of give and take here. And like I say, I consider it just one big family because I know everybody here now and we all seem to get along pretty well. I just think it takes cooperation amongst everybody to make it into a real community."
We All Get Along Together
"That we all get along together," says Barbara, a resident at Highgate at Great Falls. "I think this is a good community. Very, very accommodating. The staff really try to do anything that you need. Everybody seems friendly."
People Are Friendly
"It means people that are friendly all around," says Blanche, a Highgate at Great Falls resident. "I think that's what a community is. I feel that here."
Lets People Express Themselves
"Community, to me, it's the state of what people are doing in a group environment," says Michael, a resident at Highgate at Temecula. "Everybody has their own way of doing things. It really kind of breaks down a lot of barriers in a way, by having a sense of community. You get to feel different people's emotions. There are a lot of emotions here because of obvious things that happen as you get old. Community lets people express that, if they choose to. They get a sense of freedom to be able to express themselves and do things in a community environment."
Grow as a Unit
"I think it would be how to come together as a group and work out differences and different kinds of bugs and things like that — how we can grow as a unit and what we can do to live each day happily and what changes we need to make," says Highgate Medication Assistant Alexandra Van Zuyt. "I also think the residents' input is really great to know what their concerns are, if there's anything that we need to change. I feel like we take those changes in consideration, and that's important for a community. If there's something of concern or we can do something better, that's good to know."
Hope & Happiness in Community
It's a common misconception for many seniors that moving into an assisted living community is the beginning of the end. But that couldn't be further from the truth. Many people move to senior living so they can actually live their life to the fullest — even reinventing themselves along the way.
"It's night and day," says Bev, daughter of Bonnie, a Highgate at Yakima resident who took up playing the piano again after 15 years of arthritic pain. "It's not just me who sees it. Everybody has remarked how much happier she looks. Her whole demeanor has changed. Highgate has given her a sense of purpose again."
Read our eBook Hope & Happiness to hear from more Highgate residents, some of their family members, and a few Highgate team members as they share stories about life before Highgate and how moving into a community setting changed their lives for the better.