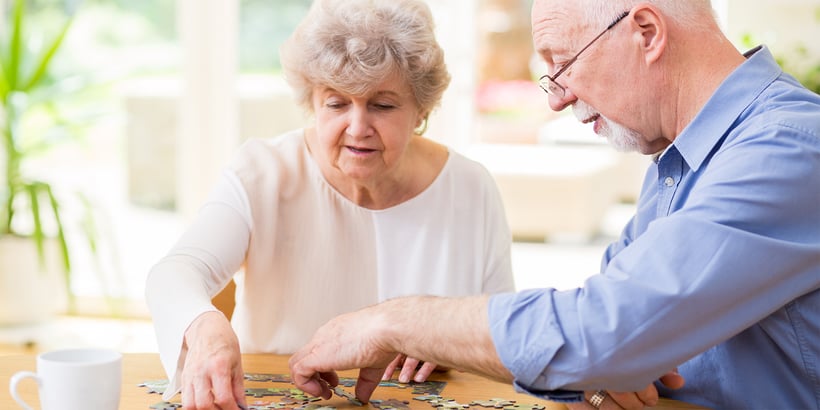 You know your loved one living with dementia shouldn't be sitting in the recliner all day long, but how do you develop daily routines and activities that are realistic and meaningful? This can be especially when their abilities are always changing and when you have a million other things on your to-do list.
Although people living with dementia have different abilities and skills than someone who is not, they still have many of the same basic human desires. Researchers have identified 16 desires that guide nearly all meaningful behavior: power, independence, curiosity, acceptance, order, saving, honor, idealism, social contact, family, status, vengeance, romance, eating, physical exercise, and tranquility.
Without activities to help meet these needs and keep your loved one stimulated and engaged, you might find that they start to wander, withdraw from the outside world, display signs of agitation or boredom, or have a hard time falling asleep at night (known as sundowning).
Being empowered to carry on with everyday routines and activities for as long as possible and keeping your loved one's mind and body active while they cope with memory loss gives them the opportunity to improve their cognitive skills and potentially slow down their decline. It also helps make them feel valued and successful in completing a task or activity.
To help families and caregivers plan activities that will meet your loved one's social, physical, mental, and spiritual needs, internationally recognized dementia practitioner, educator, and founder of the Positive Approach to Care, Teepa Snow, identified four categories of activities: work, self-care, leisure, and rest activities. "Maintaining a healthy balance among these activities helps us manage stress and optimize our positive sense of self and control in our lives," she writes.
Let's take a closer look at each of the categories and what you can do as a family caregiver to plan activities that will help your loved maintain their abilities for as long as possible.
1. Work Activities
Work activities are those that make us feel valued and appreciated for our skills and abilities. "Getting dementia does NOT eliminate the need to be needed and to be seen by others as a productive and vital member of one's community," Snow writes.
For your loved one, work activities might look like helping others, completing projects, or doing tasks that are part of the work roles the person has had before in their life.
For example, at Highgate Senior Living, many residents used to be homemakers. So a Highgate care partner might pull out some towels and start folding them. Then the residents will come over and fold with them. That might seem small, but it used to provide them purpose to do the laundry, so Highgate finds those things and helps them with that.
Although doing housework may not sound like a fun activity to you, it can leave your loved one with a sense of accomplishment and leave them feeling that they're still capable of contributing — all feelings that lead to having a sense of purpose in life.
2. Self-care Activities
Self-care activities are those that we do to take care of ourselves, our bodies, and our homes.
When your loved one starts to struggle with memory loss, it's normal to want to help them with things, such as buttoning their shirt or tying their shoes. However, this can often lead to them becoming fully dependent on you too soon.
Being allowed to carry on with everyday activities for as long as possible — no matter how long it takes — gives your loved one the opportunity to improve their cognitive skills and potentially slow down their decline. It also helps make them feel valued and successful in completing a task or activity.
For someone with dementia, self-care activities might look like bathing, eating, toileting, dressing, taking medicines, shopping, managing money, paying bills, fixing food, or tidying up.
At Highgate, care partners empower memory care residents to feed themselves with the hand-under-hand technique. If a resident needs help eating, for example, they will help eat with them instead of just feeding them. The resident's hand goes over the care partners. That way they still feel like they're doing the motion of eating and they don't feel like they're being fed.
3. Leisure Activities
Leisure activities are those we do because we like them, get pleasure from them, and enjoy them or enjoy doing them with others.
This could be almost anything: socializing or visiting, singing, reading, playing cards or games, doing puzzles, walking, dancing, exercising, gardening, doing arts and crafts, listening to music, watching movies, looking through photo albums.
It's important to create meaningful activities, not just ones that fill time. Stick with activities your loved one has always enjoyed, but know that some activities may need to be modified. Focus on their likes, dislikes, strengths, abilities, and interests.
4. Rest Activities
Rest activities are those that we do to re-energize ourselves, to find our inner peace, to relax, and to feel better
For someone with dementia, that might be sleeping, napping, praying, listening to music, holding hands and sitting with someone they like, taking a quiet walk, rocking, watching birds or fish, petting a dog or cat.
At Highgate Senior Living, for example, care partners help residents by making time for activities that enhance their sense of connection to themselves, to nature, and to others. That might look like spending time in nature, dancing to a familiar song, or helping prepare a meal.
A Note on Choosing the Right Activities
A critical element of Teepa Snow's Positive Approach to Care is its emphasis on person-centered care. This means that activities shouldn't be one-size-fits-all.
For example, at Highgate Senior Living, when a new resident moves in, someone from the Life Enhancement Team will stop by to conduct a Life Story Interview and Purposeful Living Interview. The Life Story Interview helps team members better understand the history of each of the residents and share their story with other residents. The Purposeful Living Interview helps team members understand what brings meaning to each resident's day and elicit ideas and information that allows them to plan programming for the residents so they can continue to live a life of purpose.
To determine which activity could be the most meaningful for your loved one, think of their occupation, what they enjoyed doing, and what made them happy. Always adapt activities to fit their abilities, such as mobility, communication level, and sensory processing.
Want to learn more about how memory care at Highgate Senior Living can help your loved one live a meaningful and fulfilling life? Download our eBook Life at the Cottage: A Guide to Highgate's Unique Approach to Memory Care.