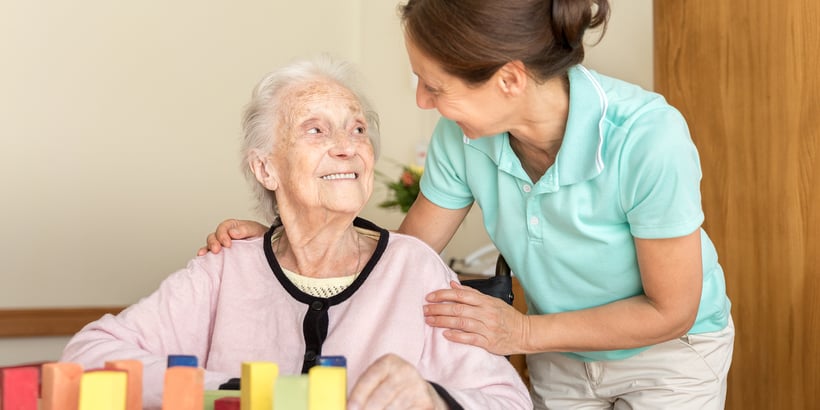 A dementia diagnosis can feel like the beginning of the end. If there's one thing Courtney Reifel has learned in her four years working in a memory care community, it's that there's still joy to be experienced.
"There's so much joy and so much purpose even after the word 'dementia,' says Reifel, the Life Enhancement Coordinator at Highgate at Yakima. "When we're joyful and calm — when we can go into a room and create that atmosphere — anything is possible."
When you're answering the same question over and over again, spending 10 minutes trying to button a shirt, driving to two doctor appointments a week, and staying up every night worrying, it can be hard to imagine that anything is possible.
Dementia expert Teepa Snow says that her Positive Approach to Care is all about loving and respecting those living with memory loss for who they are now by focusing on what's left, not what's lost, and what can be done rather than what can't.
"Sometimes when we hear the word dementia, we sell them short of what they're capable of," Reifel says. "They're so much more capable than we think."
Reifel shares a story of a Highgate memory care resident who was an oil painter who hadn't picked up a brush in over 30 years. So Reifel worked with her team to create an environment where the resident would feel comfortable painting again. "We sketched out what she was going to paint and gave her a paintbrush and helped her pick the colors and then she went to town and created this beautiful painting," Reifel recalls. "It was all about the right environment and modifications."
Working with people living with dementia has taught Reifel and other Highgate team members many great life lessons about how to live life to the fullest that have left lasting impressions on their lives. Here's what they shared.
Go with the Flow
People with Alzheimer's disease and other types of dementia often come to live in an altered reality that won't always match yours. Memories can become garbled and create hallucinations or delusions that don't make any sense to you, but are real to your loved ones.
Knowing how to handle this can be tricky, says Michael Ornelaf, the lead care partner in the Cottage memory care community at Highgate at Yakima. Your instinct might be to correct your loved one, but research shows learning what is behind those feelings, or simply joining them in their world is often the kindest, most respectful way to handle the beliefs and perceptions that a loved one's brain creates.
Going with the flow not only makes caregiving easier, but also provides comfort and reassurance to people who are living with memory loss.
"It changes everything when you have the right attitude," Ornelaf says.
Focus on Feeling
When your mom is convinced your husband is hers, or your dad believes your son's 25th birthday party is really for him, it can feel cruel to remind them that no, your husband died 10 years ago - or no, you're not 25, you're 85.
Instead of making stuff up that is not true, or forcing your reality on someone whose concept of time, place, and circumstance are constantly changing - memory care experts recommend focusing on the emotional aspect of a conversation and less on the factual content.
Sometimes that could mean reminiscing about an event, other times, it means joining them in their reality rather than trying to bring them back to yours. By entering your loved onet's world, you're able to reduce their anxiety, and they begin to feel a sense of security as empathy is established and trust is built.
"They might not remember what we say, but they remember how we make them feel," Reifel says.
Do With, Not For
When your loved one starts to struggle with memory loss, it's normal to want to help them with things, such as buttoning their shirt or tying their shoes, however, this can often lead to them becoming fully dependent on you too soon.
Even though it might take them longer on different days to complete a task, allowing your loved one to complete tasks they can will leave their dignity intact and will give them a small sense of accomplishment.
One way Highgate cottage care partners do this is through the hand-under-hand technique. Ornelaf offers an example: "When you help them brush their teeth, don't do it for them. Their hand goes over yours. That way they still feel like they're doing the motion of brushing their teeth but you're there along with them. It's the same with eating, too. That way they don't feel like you're feeding them, but you're helping them bring the utensil up to their mouth. There's a big difference in doing something with them rather than for them."
Take Care of Yourself
Caring for yourself is one of the most important — and one of the most often forgotten — things you can do as a caregiver. As you struggle with the ambiguous loss of a loved one, make sure you're cultivating relationships with people who can support you.
For more tips for caring for someone with memory loss, download our Guide to Caring for Someone with Dementia.