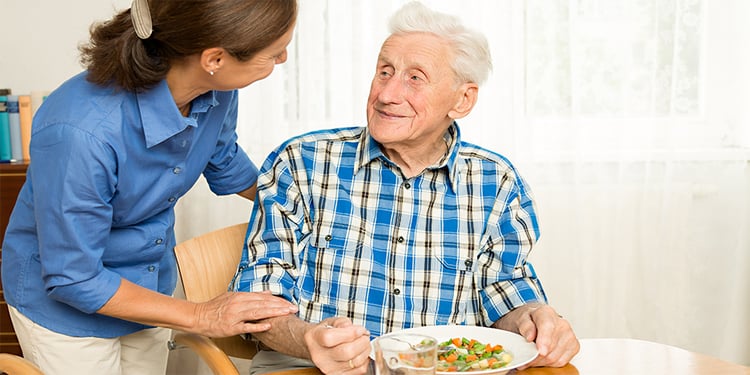 Why do you answer the same question over and over again, spend over 10 minutes buttoning a shirt, drive to two doctor appointments a week, and stay up every night worrying? Because you love them.
That's why the care partners in Highgate Senior Living's memory care communities, known as The Cottage, do it, too.
Informed by Teepa Snow's internationally renowned Positive Approach to Care (PAC), memory care at Highgate Senior Living is all about loving and respecting those living with memory loss for who they are now and helping them to make the most of what they have left.
From the very beginning, Highgate hires people who are the right fit — care partners with the desire to contribute to enriching the lives of our residents — and then offers PAC training.
Through Positive Approach to Care training and GEMs training, Highgate care partners learn how to focus on what's left, not what's lost, and what can be done rather than what can't. They learn that it's not about the how — doing household chores, eating a meal, navigating bedtime — which can indeed be frustrating and exhausting. Teepa Snow says it's about the why.
What's Highgate's why? The person — mind, body, and spirit — who can be reached and who deserves to live a life of purpose.
So what does the Positive Approach to Care really look like at Highgate Senior Living? And how do care partners focus on the why, not the how?
Here's a behind-the-scenes look at Highgate's Positive Approach to Care and why it's made Highgate one of the leading innovators in the senior living industry.
The Why: Feel Accomplished
The How: Get Dressed
When your loved one starts to struggle with memory loss, it's normal to want to help them with things, such as buttoning their shirt or tying their shoes. However, this can often lead to them becoming fully dependent on you too soon.
Instead of focusing on, for example, the how of buttoning a shirt, memory care partners at Highgate focus on why it's important that your loved one buttons their shirt if they can.
Being allowed to carry on with everyday activities for as long as possible — no matter how long it takes — gives your loved one the opportunity to improve their cognitive skills and potentially slow down their decline. It also helps make them feel valued and successful in completing a task or activity.
The Why: Promote a Sense of Purpose
The How: Stay Active
Would you like to see your parent with memory loss more active and engaged? It can be hard to watch your once-spirited mom or your formerly-animated dad struggle with memory loss.
Staying active is essential to living well. For someone with progressive memory loss, "activities" can be anything they do from the moment they get up in the morning to when they go to bed at night. Helping your loved one remain active is important. It helps them maintain a sense of self-worth and gives them purpose and enjoyment.
Some of the best ways to help someone with memory loss remain active are to keep them involved in the daily routines around the home, such as getting dressed, making a sandwich, sweeping, and folding clothes. At Highgate, the memory care partners get to know the residents and find out what gives each individual purpose.
For example, for residents who were homemakers, care partners might pull out some towels and start folding them. Then, the residents will come over and fold with them. That might seem small, but it used to provide them purpose to do the laundry, so Highgate finds those things and helps them with that.
The Why: Encourage Independence
The How: Eat a Meal
Memory loss is frequently accompanied by changes to appetite and eating habits. If you focus on the how of eating a meal, you might get frustrated when your loved one gets distracted while eating or when a spoon meets pursed lips.
Through PAC and Virtual Dementia Tour training, Highgate memory care partners come to understand that the person with memory loss is doing the best they can, and if something isn't working, it's their responsibility to change their approach toward the person living with dementia as well as to discover what can be done differently to address the challenging situation.
"We do things with your loved ones instead of for your loved ones," says Mandy Ketcham, Community Relations Coordinator at Highgate at Yakima. "For example, if they need help eating, we will help eat with them instead of just feeding them. There's a big difference in doing something with them rather than for them."
The Why: Soothe the Spirit
The How: Go to Bed
The end of the day can be a challenging time for family caregivers of loved ones with dementia. In late afternoon and into the night, some of those with memory loss suffer a symptom called sundowners. They may get confused, sad, restless, anxious, fearful, angry, paranoid, or agitated, and they may express these emotions through pacing, yelling, crying, hallucinating, lashing out, or wandering off.
For example, many times people will tell Ketcham that their family member gets agitated in the afternoon. At Highgate, care partners try to find out what's actually going on and address the root cause of that frustration. Maybe it's actually a lack of activity or movement. Maybe they have pent-up energy and they're bored. Are they up all night pacing at home? Well, maybe it's because they've been sitting around all day. So Highgate offers an environment where they can be engaged.
At the end of the day, if someone is agitated, Highgate care partners don't have a knee-jerk reaction and say a resident needs more pills. Instead, they might use lavender aromatherapy, which is very calming.
Ketcham recalls one resident who would get upset in the evenings: "But if you saw her start to get that way, you could get her headphones and iPad, which her daughter had preloaded with her favorite music. All you had to do was get them on her ears, and she would become a different person. She would sing, and eventually, she'd be dancing down the hall."
When it comes to memory care at Highgate Senior Living, it's all about love and respect — about the why, not the how.
Katrina Custodio, the Life Enhancement Coordinator at Highgate at Temecula, says the Positive Approach to Care and Virtual Dementia Tour trainings help care partners experience firsthand what it is like to live with dementia. "By knowing what dementia feels like, we can better approach our care for our residents," she says.
Want to learn more about what it feels like to walk into The Cottage and how memory care at Highgate Senior Living can help your loved one live a meaningful and fulfilling life, download our eBook Life at the Cottage: A Guide to Highgate's Unique Approach to Memory Care