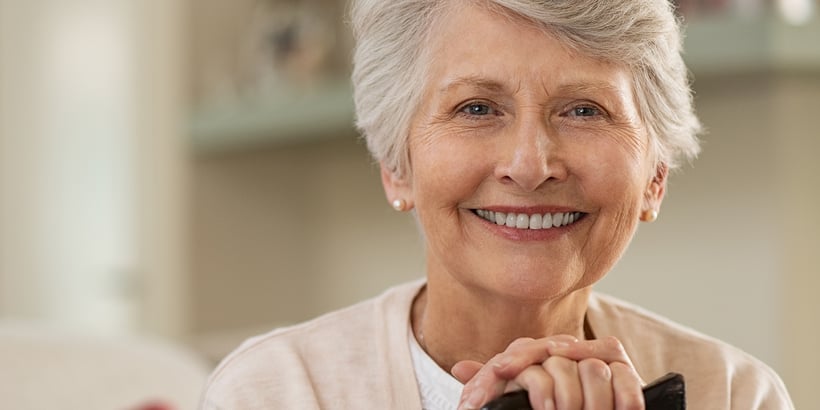 My brother recently called to remind me that by moving Mom to memory care, my siblings and I are helping to give Mom the care and lifestyle she deserves.
It's a caring reminder to receive because moving Mom to memory care was one of the hardest things I've ever had to do. I'm beyond grateful that it turned out for the best.
To help ease the transition, even if just a little, for your loved one, and for you, here is what we learned. Of course, everyone handles the transition differently, so use the tips that best fit your loved one's personality and needs of your situation.
1. Things Can Change Fast
Mom's Alzheimer's had plateaued for so many years, that when the decline came, it floored me. It was as if we were meandering along and then, without warning, we just fell off a cliff.
For instance, Mom's hearing was just fine, but then it was like she couldn't seem to process certain sounds and interpret what she was hearing accurately. I used to take her with me to run errands, but she started seeming frightened or distressed in noisy environments like the grocery store, and eventually, it was just easier on her, and me, not to take her.
2. Worrying Is Exhausting
Mom slowly evolved into a worrier. First, it was the "bumps in the night" that made her stir. Then, after she heard about Carol from church who fell, broke her hip, and never recovered, Mom was afraid of falling. Soon, there were mini "emergencies" day and night. It was exhausting to calm her down each time she called me with that panicked tone in her voice.
However, it wasn't just my mom who was afraid. I was worried that she'd slip in the bathroom and break a hip. I worried that she'd leave the stovetop on and burn the house down. I worried that she'd go to walk out the front door and not come home. I worried that she was going to keep withdrawing so much that she basically disappeared. I'm worried about the things I didn't even know to be worried about yet!
3. Keeping Track of Changes Helps
Each day brought new challenges and change, so I started keeping track of Mom's physical activity levels, or lack thereof; changes to her appetite and eating preferences; her troubles with sleeplessness, restlessness, and isolation.
It not only helped me plan how to support her, but it also came in handy when I needed my siblings to understand where Mom's physical and mental health truly was. The trackers helped them understand my caregiving roles and responsibilities and get a better sense of just how much time was being invested.
4. You Can See Person-Centered Care in Action
We have a lot of memory care options in our town, and we knew we wanted a place that offered positive, person-centered care and a holistic approach. When we walked into the place that would become Mom's new home, it just felt right.
At Highgate, you could see person-centered care in action. In the dining room, I saw a team member helping guide a fork into a resident's mouth as opposed to feeding them. I saw the Life Enhancement Coordinator getting to know a new resident so they could plan programming that helps them live a life of purpose. The person leading my tour asked me about Mom's hobbies, likes and dislikes, passions and pastimes. I knew they would create an environment in which Mom would thrive.
5. You're Allowed to Let Go of the Guilt
When I was at my worst, I was on the verge of burnout — and I still felt guilty: Wasn't I supposed to be able to juggle all things, including taking care of my mom when she needs it?
Let me tell you: No, you're not supposed to do it all.
Although one of the hardest parts about this entire experience was realizing I couldn't do it alone, realizing that memory care would help Mom to be safe and well cared for was an immense relief as well.
It can help to recognize your "new" relationship with your loved one. You will still be their caregiver, but others are now available around the clock to help with the physical care and to assure that they are safe. You will be your loved one's voice at their new home, and you can make the most of the time you spend with them.
Moving Mom
There's a reason they call dementia a family disease — the life-changing stress experienced by relatives who care for loved ones with dementia.
To read more about how one adult daughter navigated the experience of dementia caregiving with her siblings and her mother's move to senior living, download our eBook Moving Mom, based on true stories from Highgate residents and their families.