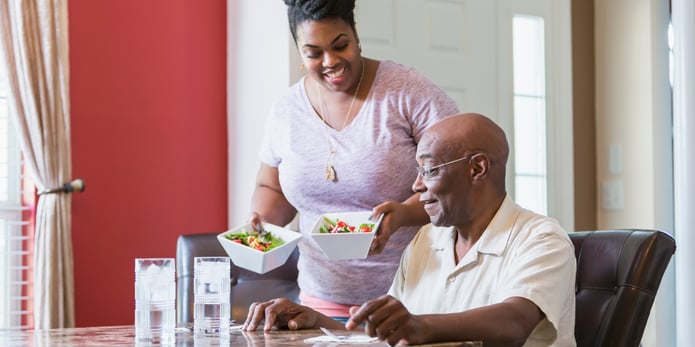 What do you do when your mom can't make it to the grocery store or your dad eats pizza for dinner for the third time in a week?
As a caregiver, your to-do list might seem never-ending. It might be a good day when you can grocery shop and make meals for yourself, let alone your loved one.
Good nutrition is important, especially as you age. These caregiver hacks are simple tips and ideas for how you can make improving your loved one's diet easier — and your to-do list shorter.
1. Make Simple Swaps
As your loved one ages, their nutritional needs change. To maintain bone health and nerve function and to lower the risk for heart disease and high blood pressure, older adults need more calcium, potassium, fiber, and vitamins D and B12. Here are some simple food changes you can make to help your loved one get the nutrients they need:
Use Greek yogurt instead of mayo.

Eat quinoa instead of rice.

Eat whole-grain bread instead of white bread.

Add fruit to cereal or oatmeal.

Spread avocado on toast instead of butter.

Stuff spinach and tomatoes inside grilled cheese sandwiches.

Make mashed potatoes using cauliflower.

Using zucchini ribbons instead of pasta.
2. Buy Prepared Salads and Produce
If your loved one eats more carbs and proteins than fruits and veggies, they might not be getting all of the nutrients they need to stay healthy and strong.
Eating plenty of fruits and vegetables is especially important as you get older because the nutrients and fiber in these foods can help reduce high blood pressure, lower the risk of heart disease and stroke, and stave off eye and digestive problems.
To encourage your loved one to eat more fruits and veggies, consider buying pre-chopped produce and pre-bagged salads. This simple hack reduces the time, strain, and risk of having to cut in the kitchen.
3. Get Produce Delivered
Did you know that about 20 billion pounds of food is thrown away every year in America because farms can't find buyers for their products? Companies like Imperfect Foods buy this perfectly good food (though some have cosmetic imperfections) that gets rejected by grocery stores. Shoppers can go online, choose produce and grocery items they want, and have them delivered straight to their doorstep.
If your mom loves blueberries in her oatmeal and asparagus alongside her salmon, but isn't able to get to the grocery store every week, consider subscribing to Imperfect Foods. During the COVID-19 pandemic, the company is offering free delivery to seniors who qualify for its Reduced Cost Box Program.
4. Use Snacks to Fill the Gaps
Many older adults cut back on their meal intake because they aren't able to cook or they don't feel like cooking a big meal for themselves. If your loved one isn't a big eater, consider offering five to six small meals or snacks instead of three larger ones. Snacks also help stabilize blood sugar between meals and maintain energy levels.
Here are some easy snacks for seniors:
Orange slices

Apple slices and peanut butter

Greek yogurt with fresh berries

Cottage cheese

Hardboiled egg

Whole-grain crackers and hummus

Walnut Cranberry Bar or other health bar
5. Sign Up for a Meal Delivery Service
If your loved one has mobility issues, they might not be able to easily get to the grocery store for fresh produce or cook their own nutritious meals. Health conditions like arthritis and Parkinson's disease can make it harder for them to cook. Strength and coordination issues can make it challenging to actually eat.
Now that many seniors feel vulnerable leaving their home, it's challenging for everyone to have the right ingredients at home to have a well-balanced diet. Consider finding a meal delivery provider near you.
Meals on Wheels America prepares and delivers more than 1 million meals to seniors each day. Schwan's delivers homemade frozen meals every two or four weeks. Silver Cuisine delivers fresh meals exclusively to seniors and can accommodate many different dietary plans, including heart-healthy, diabetic-friendly, and low sodium. The company even delivers nutritious snack options.
6. Make a Meal Plan
It's easy to feel overwhelmed at the thought of preparing healthy meals for your aging loved one. Meal planning is one way to take the stress out of cooking and provide you with peace of mind.
If you get together each Sunday to plan out meals for the entire week, meal planning can start to feel like a weekly project to look forward to. Making a meal plan not only helps avoid making several trips to the grocery store during a busy work week, it can also help your loved one to feel more invested in what they are eating.
During a pandemic, you may be taking extra precautions to keep your family safe and prepared, including making sure you have everything you need at home. Download this Meal Planning Worksheet, which includes information on the top five nutrient sources to incorporate into an older adult's weekly meal plan as well as a printable weekly menu plan and shopping list.
Making a plan before heading to the store or ordering groceries online can help you get organized, save money and time, and choose options that will keep your loved one healthy and strong in this chapter of life.