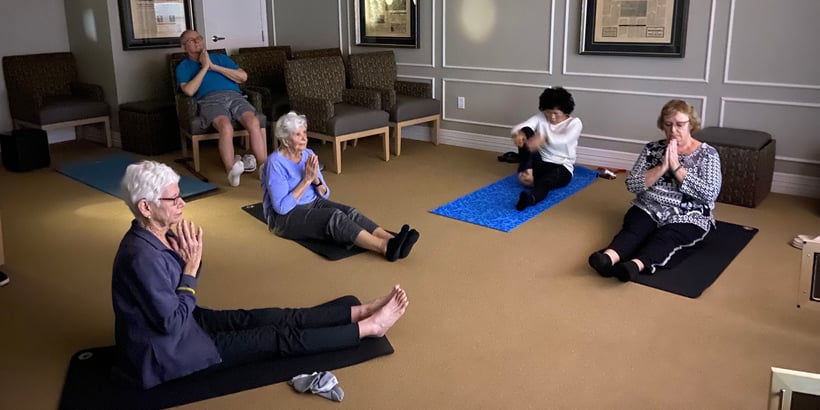 There are a lot of myths and misconceptions about what life in an assisted living community is really like. Some older adults even dangerously delay moving to a senior living community because of these outdated assumptions.
Step into a Highgate Senior Living community, and you'll see more than a group of older adults playing Bingo while another watches Judge Judy on TV (though there are quite a bit of folks who love their evening Bingo game!).
At Highgate at Vancouver, Ann is sitting in the lobby reading a book in the Jack Reacher series by Lee Child. Betsy is talking to the receptionist, Valerie Uphoff, while she waits for her daughter to pick her up to prepare for Easter dinner. Marion is checking her mail, though it's mostly bills. Wearing red and black plaid pajamas — it's National Wear Your Pajamas to Work Day — Life Enhancement Specialist Beth McCandless wheels Beverly into the large dining room. The tables have been pushed to the side to make room for a socially distanced exercise class that's about to start. Two other residents walk into the dining room, talking about their great-grandchildren and their plans for the holiday weekend.
With a focus on social connections, health and wellness, and independence and comfort, older adults who choose to make the move to a Highgate Senior Living community typically find themselves enjoying a better quality of life than their peers who try to age in place at home.
One thing you will quickly discover is that no two days are the same in a senior living community. Every day residents have the chance to join as many — or as few — daily activities as they choose. You might participate in one of the scheduled Life Enhancement programs that begin around 10:30 a.m. each day and continue into the evening, or you might want to spend the day at home reading a book, working on a quilt, or catching up with friends on the phone. It's up to you.
Here's a look at what one April Friday at Highgate at Vancouver looked like.
8 a.m. Breakfast
At Highgate, residents can wake up whenever they like. If they need help going to the bathroom, getting dressed, or taking their medications, a care partner will be there to help as soon as they wake up. After getting ready, it's time for a healthy breakfast.
Depending on a resident's abilities and preferences, they can make their own breakfast or head to the dining room to dine with friends.
At Highgate, each breakfast is made to order, so residents can enjoy the perfect breakfast each and every day. On Friday, residents could choose from pancakes, any-style eggs, bacon, sausage, toast, and oatmeal. Phyllis enjoyed her breakfast while reading the Daily Chronicles, a daily digest of things that happened this day in history, and a look at tomorrow's activity calendar.
9 a.m. Podiatrist Visit
Twice a month, a local podiatrist stops by Highgate at Vancouver. Dr. Barker helps residents with everything from inspecting the feet for swelling or any other injuries that may otherwise go unseen, to evaluating their footwear to best support and protect their feet. Today, Marion stops by the activity room to have Dr. Barker trim her toenails to avoid ingrown toenails.
10:30 a.m. Exercise for Health
Residents start funneling into the dining room for exercise with Life Enhancement Specialist Beth McCandless. Ten residents find their seats, arranged in a large circle. Big band music — Quincy Jones, Ray Conniff — plays quietly in the background as Beth leads the residents in movement. They stretch and lunge and walk.
Beverly had a stroke a few months ago and it left her unable to move her left side. "I've named my leg George and my hand Frank," she says. "Wanna know why? Because men don't listen to you."
Thanks to the exercise classes at Highgate, Beverly can now move her leg a little bit, and it gets better each day. "The exercises have helped me more than anything," she says.
11:15 Manicures
After exercise class, Beth grabs a nail kit and heads up to Lucille's room to give her a fresh coat of paint. "She likes reds and pinks," Beth says.
11:30 ROMEO's Coffee and Donuts
Over in the memory care side of the senior living community, called The Cottage, residents gather in the dining room for ROMEO Clubs (Retired Old Men Eating Out), though female residents were invited, too. Each resident picks out a limited-edition Krispy Kreme Easter donut — all filled with Kreme.
Angela and Ann show off their freshly painted nails while sipping on hot chocolate and taking bites of their donuts.
Retired Army Reserve Sgt. Major Richard Kishimoto says he wants to sing a song, and the Life Enhancement Specialist Mike Matovich pulls up YouTube on his phone. It's a 2009 video of the sergeant major performing "God Bless the USA" during a cabaret show to honor veterans at the Herbst Theater. Everyone at the table breaks out in song.
Noon Lunch
Back on the assisted living side of the community, called The Manor, Ginger and Arvin saddle up to a table for lunch. Married 45 years, the couple moved into Highgate at Vancouver in March 2021. Thanks to the Couples Care program, Ginger, who has cognitive difficulties, gets the care she needs and Arvin gets the caregiving support he needs.
Ginger and Arvin live together in an assisted living apartment. But as Ginger's caregiving needs increase, she has the option to move into the memory care side of the community and just be a short walk away from Arvin. These days, instead of spending all of his time caring for Ginger, Arvin now has time to run a biweekly Texas Hold'em Club at Highgate at Vancouver.
The Community Resource Manager, Ananda Bazzano, comes over to take their orders: The choice of a salad or soup of the day (today, a clam chowder) and fish and chips served with coleslaw. Residents can also order off the anytime menu, which includes a stir fry, grilled cheese, a low-carb plate, and a hamburger. For dessert? A brownie sundae.
2 p.m. Pinochle Club
The activity calendar at every Highgate community looks different. That's because it's driven by the residents' interests. So every Friday, Vancouver resident Marianne leads a Pinochle Club. Not all the residents know how to play, but Marianne is a pro and happy to patiently teach anyone who wants to learn.
All portions of the day are flexible, but the afternoon is often the most popular time for residents to explore the hobbies they enjoy most or spend time with family or friends.
3 p.m. Poetry Reading
On Fridays, there's usually a happy hour with a performance by a local musician. But this week, there's a poetry reading.
Life Enhancement Coordinator Rose Zamudio-Mora noticed that one resident, Elizabeth, was spending a lot of time in her room. So she looked at Elizabeth's Life Story and Purposeful Living interviews and talked to Elizabeth about her interests. Elizabeth loves poetry, so Rose planned a poetry reading for the community where they read works by some of her favorite poets.
5 p.m. Dinner
Senior living isn't like high school. Residents don't sit at the same table for every meal. At Highgate at Vancouver, they like to mix things up and connect with new people. Dinner tonight is tuna casserole with tapioca pudding for dessert.
7 p.m. Wind Down
When evening comes, it is time to wind down. Some residents participate in more social activities. Others may choose to wind down and participate in a helpful routine that prepares their mind and body for a restful night of sleep.
If needed, caregivers are available to help residents with showering, evening medications, and all other bedtime preparations.
Better Than Home
There may be regular schedules at a Highgate community, but each daily schedule is flexible. Independence and choice are encouraged. Some days, you might attend happy hour. Other days, you might participate in a book club. While meals are served at the same time every day, the menu is different, so you always receive a nutritious variety.
Although living at home might feel familiar, for many older adults, it also comes with a variety of challenges. For many seniors, life at Highgate is the most active, meaningful, and fulfilling yet.
Interested in learning more? A visit to one of our communities might just surprise you …