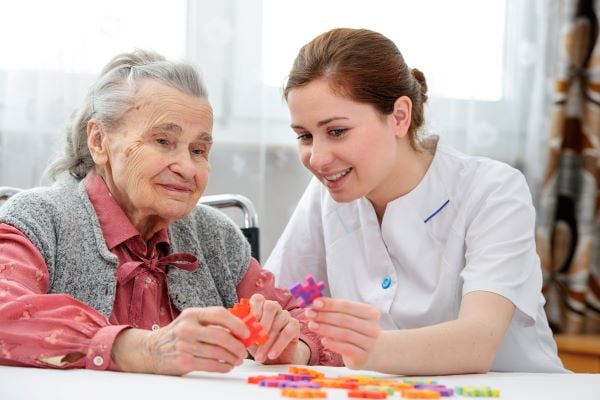 If you're caring for someone with dementia, there will come a time when caring for them at home might not be best for you or your loved one. Making the decision to research memory care is an emotional one—one that families typically take several months to make. Whether the search has started because of safety concerns, or a parent simply needs more assistance than can be provided at home, finding a community to entrust the care of your loved one isn't an easy decision—and it's one that often comes with guilt, hesitation, or even denial that it's time to make the move.
"Unfortunately, it's not uncommon for families to wait until it's too late to start looking at options," says Amelia Adkins, Senior Director of Marketing for Highgate Senior Living. "When that happens, their loved one isn't able to take full advantage of the programs we've put in place that can really improve someone's quality of life – even give them purpose and meaning in their life again. It also means that families can be at the point where they are burnt out or overwhelmed and that makes making the decision even harder. We have programs in place to help anyone with memory loss, regardless of where they're at functionally, but when families are proactive, they are able to experience just how much their parent is actually able to do with the right programs in place."
What is Memory Care?
Memory care and care communities offer a team of care providers who can care for your loved one 24/7. These care providers receive specialized training to care for those specifically with a memory loss diagnosis — but not all memory care communities have the same care philosophies, programs, or even training for their staff. Here's a look at what makes memory care at Highgate Senior Living different.
Care Partners Focus on Ability Instead of Loss
Bernadine knew it was time for memory care for her husband, Eric, after a trip to the hospital, from of gastrointestinal problems, left her worried about what would happen to him if something happened to her. Bernadine then started touring memory care communities.
"I didn't like them," she says. "I didn't like the look of the patients who were there — and I call them patients rather than residents because they looked more like what you'd see in the hospital."
Then she toured Highgate. Instead of focusing on residents' limitations, due to their memory loss, she noticed Highgate care partners encouraging the residents, putting emphasis on what they can do, rather than what they can't.
Although a resident might find it difficult to express thoughts and perform routine tasks, what she saw was care partners and residents doing everyday tasks together. Whether watering plants or rearranging the silverware drawer, Bernadine saw a family.
"It's different from every other community we toured," Bernadine says.
Highgate Values Openness and Transparency
Having previously searched for memory care for her husband, Sofia knew what she was looking for when it came time to find a memory care community for her son-in-law, John.
"I knew I didn't want to place him where my husband had been, because my husband had fallen and nobody had checked on him — they were supposed to every hour — so he spent 17 days in intensive care," Sofia says. "It was just a bad experience."
At another community she toured, they wouldn't allow her to go to the second floor, where the residents lived. "I said, nope, this isn't going to happen. If you can't see it the day you come, then something's wrong," she says.
When Sofia toured Highgate, she asked a lot of questions: Can we visit whenever we want? If we are concerned about his care, what will you do about it and how quickly? If we have questions about the bill, is there a person we can talk to?
"She had all the right answers," says Sofia, who recently helped John move into the Cottage memory care at Highgate at Temecula.
It was also important to Bernadine that she could come and go as she please. "A lot of places you can't stay overnight," she says. "They have visiting hours. I was looking for something that was more like home."

At Highgate, visiting hours are not restricted. Friends and family play an important role in residents' social and emotional well-being, and there are many community spaces where residents can spend time socializing with one another and visiting family members.
The First Approach Is Holistic, Not Sedatives
Bernadine had read news reports of nursing homes sedating patients with dementia by misusing anti-psychotic drugs. "I didn't want a place where people were wandering around looking like zombies," she says. "I looked for a place that didn't overuse medication."
In the memory care communities at Highgate, Healthcare Directors try not to use medication, especially psychotropic drugs, when possible. Instead of using medical interventions as a first response, the care partners take a holistic approach to care, using things like tea, aromatherapy, and spa baths and massages to relax and soothe.
That's because the memory care partners at Highgate are trained using the Positive Approach to Care (PAC) model, developed by dementia-care education specialist Teepa Snow. "It's not just for show. When they say they have a positive approach, it's actually happening here. That wasn't the case at every other community we toured," Bernadine says.
The Food Is Healthy — and It Tastes Good
Dining programs vary greatly in senior living communities. Some communities have homestyle cooked from scratch meals while others primarily serve processed and pre-made food.
Bernadine knew what she was looking for, especially after having an unpleasant experience at a prior community she and Eric had lived at. The quality of the dining program was an important deciding factor for her. During tours at Highgate, Bernadine and her children made sure to eat a few different meals in the dining room — and they passed the test. "The food is excellent! Everybody likes the food."
The dining experience was important to Sofia, too. "I liked the fact that it was run like a restaurant."
With a variety of signature breakfasts, and four different items available for lunch and dinner, along with a menu of other choices, Highgate's dining program leaves residents looking forward to the next time they visit the dining room.
It Feels Like Family
Bernadine and Eric visited Highgate at Temecula more than once before he moved in. On one of their visits, the couple sat in rocking chairs on the front porch and rocked until evening. "Once, he said, 'This would be a nice place for us to live,'" Bernadine says. "As soon as he said that, it clicked: Yes, this would be."
"All the people we met — they were like friends already," she continues. "It's like one big family."
Sofia agrees: "Highgate leaves you feeling like you are a member of one big family here."
It's Doctor Recommended and Resident Approved
Bernadine remembers the moment she said yes to memory care at Highgate: "When my primary care physician said this was the only place he'd put his parents, I said, OK, that clinches it for me."
She also heard positive reviews from a neighbor across the street. And on her multiple tours of Highgate at Temecula, "A couple of residents made comments about how much they liked it," she says.
Today, Bernadine and Sofia both say their loved ones like memory care at Highgate, too.
"John likes it," Sofia says.
Bernadine agrees: "Eric's calmer. He doesn't get upset like sometimes at the house he got upset. He's gained weight. He's happy."