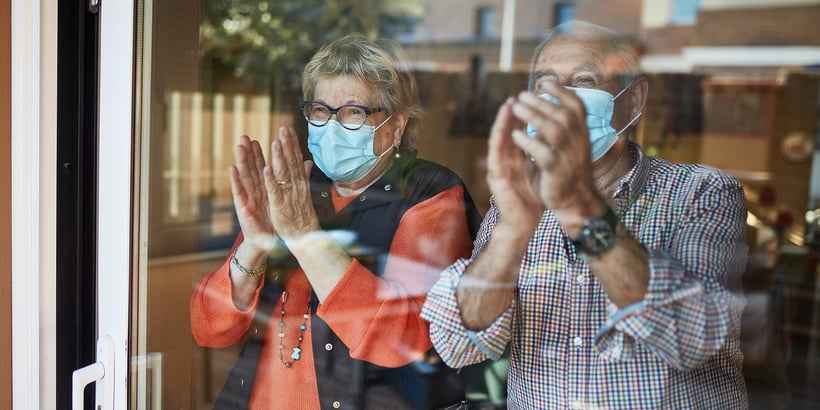 Although the pandemic has had a large effect on the elderly, the effect on long-term care residents in senior living communities (like independent living and assisted living) has been far less severe than in nursing homes. That's because the differences between assisted living and nursing homes are quite substantial.
Yet throughout the pandemic (and even prior), the media has lumped assisted living and nursing homes in the same category. While both are long-term providers, senior living communities and nursing homes offer different services and very different living arrangements. If you're confused, you're not alone.
In this blog, you'll learn about the differences between senior living communities (like assisted living) and nursing homes and how those differences affected the way they were impacted by the coronavirus outbreak.
Note: Both assisted living care and nursing home care are equally important long-term care options. This blog does not strive to place one of higher importance than another but rather to outline the key differences that have led to a lower prevalence of COVID-19 cases in the senior living industry than in nursing homes.
Assisted Living Communities
The word "community" is the perfect word to describe what assisted living can offer: The opportunity to maintain and develop new social relationships and interests, pursue hobbies, remain active, and access support and services when needed.
That's because assisted living is primarily senior housing that also provides assistance with activities of daily living. Residents typically live in private apartments, and emphasis is on maintaining or improving an active lifestyle, quality recreational programs, flexible dining options, and holistic health care in addition to providing medical services as needed.
It is an ideal option for someone who is comfortable taking care of themselves but also wants a more active social life and appreciates medication reminders. It's also right for those who require assistance with personal care, such as getting dressed and bathing.
Nursing Homes
On the other hand, nursing homes are primarily clinical care facilities. "Facilities" is a more apt word to describe them because nursing homes offer 24-hour nursing care, which more so resembles a hospital setting, where residents often live in shared rooms.
Designed for those who have complex medical conditions who need skilled nursing care, nursing homes might be right for someone who needs 24-hour medical care, requires medical attention from a nurse on an ongoing basis, is bedridden or very limited in mobility, or require rehabilitation after hospitalization or surgery.
Assisted Living vs. Nursing Home Care During the Pandemic
You likely know that the elderly population has been at higher risk for severe illness from COVID-19, but what you might not know is that many residents living in senior living communities were less affected than those living in nursing homes.
Here's a closer look at four ways the differences between assisted living communities and nursing homes affected how they were impacted by the coronavirus outbreak.
1. Living Environment
Assisted living communities offer apartment-style living options, with residents residing in individual units that they furnish and decorate themselves. Most communities offer units with kitchenettes, and some even offer apartments with full kitchens. During COVID, the individualized living spaces allowed residents to safely stay in place while still feeling like they were at home, as opposed to a health care facility.
In nursing homes, residents often sleep in hospital-style rooms that may be 'shared' where a resident co-habitants with another individual. The primary function of a nursing home is to offer medical care for seniors with debilitating medical conditions or for those with medical conditions that require regular monitoring. Because residents live in such close quarters, with quarantining nearly impossible — and because residents typically have more complex medical conditions — COVID took a more tragic toll in nursing homes.
2. Health and Personal Care
Because assisted living residents are generally physically healthier and more cognitively engaged than nursing home residents, it makes educating them on virus containment safety — such as wearing masks, washing hands, and self-isolating when necessary — much more effective than in higher-acuity settings like nursing homes. This is one of the main reasons that assisted living communities have seen far fewer cases and even more substantially lower fatalities from COVID.
In nursing homes, residents usually require a high level of care and may be physically immobile or have severe cognitive impairment. A number of conditions at nursing homes exacerbated the spread of the disease, including frequent physical contact between residents and staff, residents sharing rooms, and transfers of residents from hospitals and other settings. Additionally, infection prevention and control are much more difficult to manage among residents with moderate to severe cognitive impairment.
3. Lifestyle
With varying degrees of independence with assisted living residents, assisted living communities tend to be active, vibrant communities. The emphasis on creating engaging recreational programs in assisted living communities means that most programs are tailored to the interests and passions of those who live there. During COVID, many assisted living residents were still able to gather (while socially distanced and with proper face coverings) for strengthening exercises, to create flower arrangements, or participate in a variety of other activities (so long as the need to isolate or self-quarantine wasn't present).
In nursing homes, activities and excursions are generally not a primary feature because their residents are most often either physically or cognitively unable to participate. If there is an activities program, it tends to focus on activities that can serve a larger population of residents regardless of functional status.
4. Safety
Both assisted living communities and nursing homes quickly implemented Centers for Disease Control and Prevention recommendations and local official guidelines to contain the spread of this virus.
The main difference between assisted living communities and nursing homes in terms of safety during the pandemic is that assisted living communities have an apartment-based structure. This means that if there were an outbreak, or even just as a precaution, each apartment could easily be turned into a quarantine unit, with isolation carts placed outside each room with cautionary signage. In nursing homes, where residents live in shared spaces, it is much more difficult to handle large numbers of infectious residents.
A Safe Place to Live and Grow
If you have an older loved one, you may have put plans to move them into an assisted living on pause. But, for many seniors, assisted living is still the right choice.
During the height of the pandemic, residents received the support of team members and care partners who delivered meals to their door, along with grocery orders, prescriptions, and anything else they needed. The camaraderie and creativity shown by team members and residents buoyed spirits and bonded neighbors. Communities stepped up to provide opportunities for engaging mind, body, and spirit in new ways.
As the assisted living industry safely emerges from COVID-19 and the vaccine gives residents even more confidence in their ability to get back to the people and activities they love, communities will continue to adapt to the changing needs and wishes of older adults and provide new opportunities for living life to the fullest.
For a more in-depth look at what assisted living looks like in a post-COVID world, check out our Is Assisted Living Just Like the Nursing Home? eBook. You'll learn even more about the different types of communities that fall under the broad senior living umbrella, how COVID was handled in assisted living communities compared to nursing homes, and the new normal in assisted living communities.