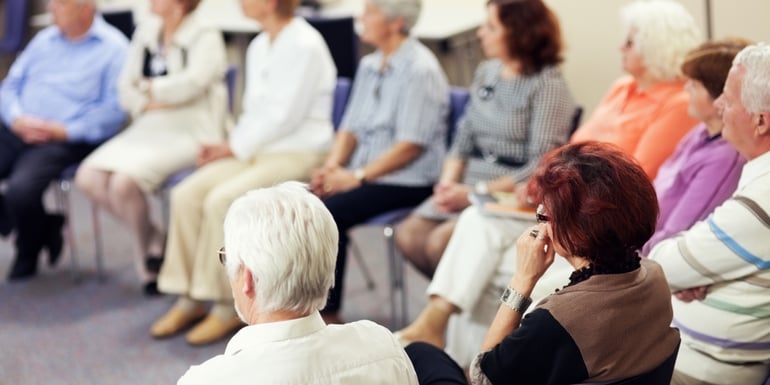 If you feel unprepared for your caregiving role, you're not alone.
Most caregivers don't have any formal training for caregiving, and even fewer receive training to care for someone with Alzheimer's or other forms of dementia.
Research suggests that education and training can benefit caregivers and their loved ones — and family caregivers who participate in caregiving training classes offered at Highgate Senior Living agree.
"I attended the classes because I liked what the write-up of the classes was and I liked the philosophy," says Bernadine, who attended a caregiver training session on Highgate's Positive Approach to Care, a program built around training by Teepa Snow, a leading Alzheimer's and dementia expert in the senior living industry.
Highgate also offers Virtual Dementia Tour training for family caregivers, which allows caregivers to experience for themselves the physical and mental challenges those with dementia face.
"These classes help families build relationships," says Mandy Ketcham, Community Relations Coordinator at Highgate at Yakima and a Certified Trainer for both the Positive Approach to Care (PAC) and Virtual Dementia Training (VDT) caregiving seminars. "That's what a lot of people tell me: 'I don't know how to communicate with my mom anymore. How can I build that relationship and still have something meaningful between us without forcing her to do things?'"
If you're a family caregiver struggling to communicate with your loved one with dementia or frustrated that things don't go as planned no matter what you do or how hard you try, these classes are for you.
Here's a closer look at dementia care training for family members, offered by Highgate Senior Living, what family caregivers learn, and how you can get caregiver support during these tough times.
Positive Approach to Care Training
With dementia, the brain is changing frequently, which presents a constant challenge for all involved.
That's why all of Highgate's care partners are trained in Positive Approach to Care. Developed by Teepa Snow, it teaches the care team how to step into the shoes of a resident with memory loss. It helps them recognize that the person with dementia is doing the best they can, and if something isn't working, it's their responsibility to change their approach toward the person living with dementia as well as to discover what can be done differently to address the challenging situation.
For family members, Highgate offers a condensed version of the PAC training. Family caregivers learn about how dementia changes the structure of the brain, how to help with — and not do for — someone with memory loss, and how to communicate better with their loved one.
"We talk a lot about how we get permission to give care and to approach and to make both of us — the caregiver and the care recipient — feel good," says Ketcham, who participated in a three-and-a-half-day training session to become PAC-certified."
For example, people with dementia often mimic what they see. So if you ask your loved one if they want to take a shower while nodding your head, then they might also nod their head.
"But that's misleading," Ketcham says. "How do we make this a two-part conversation?"
It's all about the approach. Here's how Ketcham does it: "When I walk up to someone, I have an open palm. When I'm about 6 feet away, I'll say, 'Hi, it's Mandy.' They have a visual of me, and they know my name. But they're not able to process depth perception, so I walk up one second at a time so I allow them to process what's happening. Then I'll put out my hand for a handshake, offering them into my personal space. If they put their hand out, they're allowing me into their space, too. That's how I get nonverbal permission. If they didn't reach their hand out to me, I stop. I don't have permission to get closer because they haven't put their hand out to me."
Another example: When assisting someone to eat, use the hand-under-hand technique, which is like supportive hand-holding. Your hand is on the bottom supporting your loved one, yet they feel like they're in control because their hand is on top. As soon as your hands come toward your loved one's mouth, they'll tell you whether they're ready yet — and if they're not hungry, they'll resist with their hands.
"There are many ways they can give nonverbal communication," Ketcham says.
Virtual Dementia Tour Training
Created by P.K. Beville, a specialist in geriatrics and the founder of Second Wind Dreams, a Virtual Dementia Tour (VDT) is one of the many tools care partners at Highgate Senior Living use to develop understanding and empathy for people with dementia, their caregivers, and their family members.
"VDT is hands-on sensitivity training," says Ketcham, who completed a four-day training to become VDT-certified. "It is about, 'How does someone with dementia feel and function?' "
During a Virtual Dementia Tour, trained facilitators guide participants outfitted with patented devices that alter their senses while they try to complete common everyday tasks and exercises.
"The saying 'Don't judge me until you've walked a mile in my shoes' is exactly what a virtual dementia tour is," says Katrina Custodio, the Life Enhancement Coordinator at Highgate at Temecula. "After participating in a VDT, our care partners have experienced firsthand what it is like to live with dementia. By knowing what dementia feels like, we can better approach our care for our residents."
Family members can also participate in VDT training. Ketcham recalls two daughters who participated in VDT training because they wanted to understand what their mom was going through. They thought the training was so well done, they asked their dad to come take a Virtual Dementia Tour, too.
"I remember asking him to tell me about his wife," Ketcham recalls. "He was frustrated that she was always following him around and never listened to what he told her. Then we did VDT. I gave him the instructions and walked him into the room and he immediately started following me. I told him to find something that looks familiar to do, and three minutes later, he was back in my face. It's only an eight-minute exercise. When it was over, I asked him how he felt. He was frustrated. 'You didn't tell me what I needed to do!' he said. But I did — he just didn't comprehend me. That's when the lightbulb went on. Nothing else could have hit harder for him. He replicated what his wife does to him, so it gave him more patience."
One of the most helpful things family members and caregivers learn in VDT training is that hearing and comprehension are in two different parts of the brain. For example, think about when you hear someone in another room but you don't comprehend what they said. You might holler, "What? I didn't hear you." But really, you did hear them, but you didn't comprehend what they were saying.
"When we are talking with someone with dementia, we really need to slow down," Ketcham says. "I am a fast talker. My mom always says to me, 'You talk 90 mph, but I only go up to 60 mph.' That's the same with dementia, so don't talk like their stupid, but decrease the number of words. Do visual clues. Use other means of communication besides verbal."
How to Sign Up for Training for Family Members
Highgate has been offering VDT training for over seven years and PAC training for nearly five years. Due to COVD-19, all in-person events are on hold for the time being.
However, the company is offering virtual PAC training via Zoom. To sign up for dementia care training for family members, call the community nearest you.
Bernadine says you'll be glad you did. "Take the class," she says.
Today, her husband, Eric, is living a life of purpose at Highgate at Temecula: "He's happy, he's gained weight, and he's calm. He doesn't get upset like he would sometimes at the house."
That's because Eric and the care partners at Highgate are dancing the same dance.
"If my mom was doing the tango and I want to do the foxtrot, those dances don't mix," Ketcham says. "If we're both doing the tango, we'll be successful."
To learn more about Highgate's unique approach to memory care, download our eBook, Life at the Cottage.