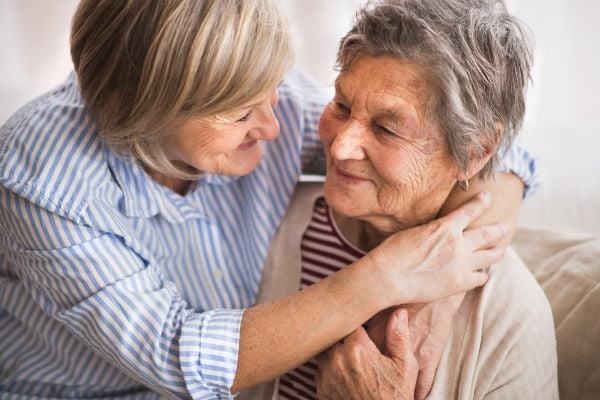 It's hard to imagine what life will be like as a family caregiver as care needs of an aging parent increase. Careers, relationships, spiritual and physical needs take a back seat to focusing your attention on the loved one who needs you most.
As life evolves based on the needs of the loved one you are caring for, a sudden shift from being the primary caregiver back to assuming the role of an adult child while someone else takes on the primary caregiving responsibilities can be a big, and even scary change.
This might be a scary thought initially. Caregiving can take a serious toll on your emotional and physical well-being. Yet you might feel a sense of duty to care for a loved one who is not able to take care of themselves — someone whose sole responsibility used to be taking care of you. There's only so much time, energy, and effort you can offer before it has a negative impact on other relationships, your own financial stability, or your own overall well-being. Caregiving can significantly impact your ability to live a normal life.
If the thought of considering a move to assisted living has you hesitant or feeling guilty, it can be helpful to think about how life might change positively for both you and your parent. Allowing others to help with caregiving responsibilities allows you to rebuild your identity, reclaim your sense of self, and return to being the husband, wife, son, or daughter again.
"We have a lot of family members whose primary role was to be the caregiver before their parent moved in," says Mandy Ketcham, Community Relations Coordinator at Highgate at Yakima. "When we take on the caregiver responsibilities and allow them to focus on spending quality time with their parent, they appreciate the ability to re-connect with them on that level. They don't feel the guilt of feeling like they aren't doing enough, and know that there is a team of people who truly care taking care of their parent," says Ketcham.

"And, the look on their face when they come to visit and see their parent laughing with friends in the dining room or enjoying a hobby they once loved is priceless."
It's one thing for us to share the benefits of moving a parent to a Highgate community, but we know the opinion that matters the most is other adult children and parents who have been in the same situation as you. People's lives — and relationships — change for the better when they move into a Highgate Senior Living community. Just ask Robert, Lisa, and Steve.
How Robert Went from Caregiver to Husband
Sheila knew it was time for her mom, Delores, to move to assisted living after she fell at home. Her dad, Robert, on the other hand, was in denial. They toured four assisted living communities before they found the right one in Highgate at Yakima.
"My mom was anxious and nervous, but it didn't take long for her," Shelia says. "She's already thriving. She's happy, and her anxiety is gone. She looks better physically. She met a friend next door. She has really good caregivers. And my dad appreciates that he's not caring for my mom anymore."
How Lisa Went from Caregiver to Daughter
For many years, Lisa was used to sleeping with one eye and one ear open just in case something happened to her mom and dad. It wasn't until after her dad moved into The Cottage memory care community at Highgate at Great Falls that she started sleeping soundly.
"One day, you wake up and go: 'Oh, my goodness. I slept! I didn't worry!" Lisa says. "It happens without you even knowing it happens."
Lisa's grateful for the quality time and her new role with her dad. "When I visit dad, I don't have to be the brat or the mean one who is saying, 'You need to do this!' she says. "He's happy. He's thriving. When he starts being goofy, I can enjoy the goofiness. I don't feel like, 'oh, I don't have time for this because I have these 10 other things I need to be doing'. Now, we can be as goofy as we want because there's nowhere else I need to be. I'm there to be the daughter and not the caregiver."
How Steve Went from Caregiver to Husband
It did not take Steve long to realize he could not handle caring for his wife, Paula, at home. He tried home care, but the aides were not trained in dementia care and it simply wasn't enough.
Then one day Steve woke up — and Paula wasn't there. She had gotten up in the middle of the night and wandered outside to the front yard. "I was so exhausted, I didn't wake up," Steve says. When he noticed she was gone, he knew something had to change. "That scared the living hell out of me."
Paula moved into The Cottage memory care community at Highgate at Yakima. "The staff and the supervisors are trained, they care, they're compassionate. When they walk down the hall or they walk past a resident or even each other, they acknowledge each other. To me, that shows that this is a family."
Still, it was not easy to drive away the first day. "The first couple times she said, 'I'm ready to go home.'" Steve says. "But I haven't heard a word in the last 18 months about home. This is her home now. I come to her home — and I get to be the husband. That is good."