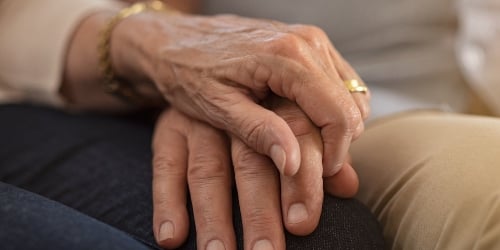 Taking care of people is a trait that runs in Sofia's family. After watching her mother operate a senior care home for many years, Sofia found her calling in pastoral ministry. She spent years caring for congregants, being present during times of need and praying with them amidst a crisis. But nothing prepared Sofia for the guilt, hesitation, and denial she'd experience when her husband and then her son-in-law were both diagnosed with Alzheimer's.
And that's why Sofia, the mother-in-law of John, a Highgate at Temecula resident, is sharing her story: She wants you to know that you're not alone and you can get the memory care caregiving help you need.
A Colonel and a Pastor
Before Sofia was Bob's wife, she was his real estate agent. She had four children, all mostly out of the house, and he was 20 years her senior. "I listed his condo and house for sale."
But Bob never left town, and the two eventually married. "He was a colonel in the Army, and I was a pastor of a church," says Sofia, who led Harvester Church of Temecula. "He always said that he sat under a general, so he had to sit under me in the church."
The First Diagnosis
Then a few years ago, Bob was diagnosed with Alzheimer's. Sofia found a senior living community where Bob could receive memory care support and she could live next door in an independent living apartment. "I wanted him to get used to being alone in a room without me," Sofia says. "So I got a room down the hall. When I totally moved away, he never knew it."
But Sofia would still go and see him every day. Over time, she noticed things that were upsetting.
"My husband didn't want to be cleaned, and that's a hard thing," she says. "In his colonel's voice, he'd say, 'I'm not gonna have a bath,' and they would just say OK. Then I'd come and they'd say he's been bathing twice a week. No, he hadn't — not with sores all over!"
Another time, Bob fell and spent 17 days in intensive care. "Nobody had checked on him," Sofia says. "They were supposed to every hour."
"It was just a bad experience," she says.
The Second Diagnosis
When Sofia's daughter's husband, John, started exhibiting mood swings, behavior changes, and memory loss, she knew something was wrong.
"He was doing all kinds of odd things," Sofia says. "He would get the food out to feed the dogs, but then when Linda would get home, the food would still be sitting on the counter. He forgot to set it on the floor. Another time, he took the mirrors off the side of the car, not knowing why he did such a thing."

"Because of the things I saw in my husband, I knew what was happening," she continues. "But it was hard for my daughter to accept. It was very, very hard on her."
Eventually, John was diagnosed with Alzheimer's, but Linda continued to care for him at home.
The turning point came when John, a gun collector, walked out of the bedroom with a gun in his hand. "She said, 'John, what are you doing with that gun?' He said, 'I found it in my mattress.' He used to be a gun collector, so he had these guns hidden around the house, but he forgot they were there. That's when she realized she really needed to do something."
Searching for Memory Care Caregiving
Sofia and Linda knew they didn't want John in the same place Bob had been, so they went back to the drawing board.
At one community they toured, the staff wouldn't allow them to go to the second floor, where the residents lived. "I said, 'Nope, Linda, this isn't [the right place].' If you can't see [where the residents live] the day you come in, then [that's a good indication that] something's wrong," Sofia says.
Then Sofia took a memory care caregiving seminar offered by Highgate Senior Living, which was in the process of building a community in Temecula. The seminar offered dementia education for family caregivers and provided information about Highgate's Positive Approach to Care, a program built around training by Teepa Snow, a leading Alzheimer's and dementia expert in the senior living industry.
Sofia liked what she learned, so she came back with Linda for a tour. Because of their previous experiences with memory care, she had a lot of questions: Can we visit whenever we want? If we are concerned about his care, what will you do about it and how quickly? If we have questions about the bill, is there a person we can talk to?
"She had all the right answers," Sofia says.
Sofia liked that Highgate offers all-day, restaurant-style dining. "People like to feel like they can just go eat if they want to," she says. She also appreciated that the staff is committed to helping people with dementia stay active and engaged by creating meaningful activities, not just ones that fill time.
What was most important, however, was the social connections the community offered: "Looking at my mother's care home, there were a lot of lonely people. Making sure somebody isn't left behind is an important thing. Highgate offers that. You feel like you are a member of a family here."
Since John moved into Highgate, Sofia has seen a positive change in both John and Linda. Linda isn't burned out anymore, constantly worrying about her and John's safety, and John likes it, too.
"They make him feel really good," Sofia says.
Are you struggling to make difficult care decisions for an aging parent or spouse? For insights into how caregiving changes relationships, your options as caregiving needs increase, and how Highgate Senior Living can help, download our eBook Navigating the Caregiver Relationship with a Parent or Spouse.