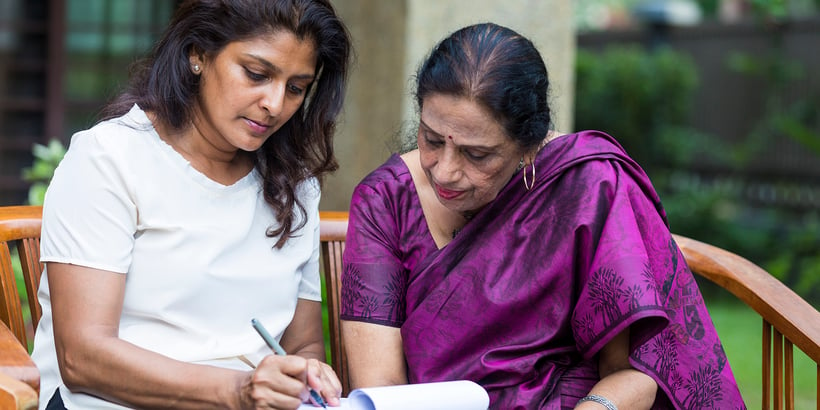 As your loved ones age, you probably expect to face health care challenges. But you might be caught off guard by some of these common legal and financial issues that can arise.

One examples: Cindy's dad didn't have a power of attorney when he had a stroke and ended up in a coma — and his emergency contact is his deceased wife. Now Cindy can't get medical information from the hospital or help caring for her father's affairs.
Another all-too-common scenario: Tom suspects his mother has been a victim of financial fraud, but she won't share any information with him. How can Tom help?
Fortunately, many sticky legal and financial situations can be avoided with careful planning. Here's a look at three common legal and financial issues families face.
1. Not Having a Power of Attorney
As your parents age, there may come a time when they aren't able to care for their financial or medical matters anymore. It is important that they have a power of attorney (POA) in place before they reach that point. A power of attorney is a legal designation your parent can provide to another individual to act as their representative in business, financial, and health decisions, and it can be as broad or as specific as you need them to be.
For example, a health care power of attorney names the person who will make decisions about your parent's medical care if they become unable to make them for themselves. A financial power of attorney allows someone your parent appoints to act on their behalf when it comes to money matters.
Most people agree that if they are ever unable to advocate for their own wishes, they would like someone they trust to do it for them without having to go through a burdensome legal process to do so. Yet that is the situation many older adults find themselves in when they do not have a POA and a sudden medical crisis hits or dementia takes away their ability to make important decisions.
If your loved one doesn't have a POA, what usually happens is the court steps in to appoint someone to take care of your loved one's medical and financial decisions for them — and they'll have no say in who their agent will be.
If your parent or loved one hasn't named a durable medical or financial power of attorney, talk to them about why it's crucial they have those legal documents in place.
2. Targeted by Financial Scammers
We'd all like to think that we're too sharp to fall for a scam, but not all scams are as easy to suss out. Some scammers send phony emails that claim to come from the IRS and tell victims that they are due a tax refund or make phone calls claiming to be IRS employees, using fake names and bogus IRS identification badge numbers. The FBI estimates that seniors lose more than $3 billion each year to fraudsters.
Staying alert, identifying potential scams, and knowing where to report financial exploitation can help stop scammers from claiming your loved one as a victim.
Let your loved one know that the IRS isn't calling. The real IRS never initiates contact via phone call, email, or through social media. The IRS initiates most contacts through regular mail delivered by the United States Postal Service. Also alert your loved one that if someone calls or emails them asking them to wire money, put money on a gift card, or load money onto a cash reload card, it is a scam.
Invite them to share with you if they suspect they've been the victim of a scam. They're not alone, and there are people who can help. You can also help your loved one by using credit monitoring services and annual credit reports, offering to help with money management and taxes, and working with your parents to select a financial power of attorney.
3. Power Struggles Over Inheritance
You might scoff at the idea of fighting over family inheritances once your parents are gone. Things may change as they begin to downsize and they start giving away treasured keepsakes or as they spend money — and you and your siblings' potential inheritance.
For example, you might be worried that your mom is no longer safe living at home and want to start exploring assisted living options. Although assisted living is affordable, especially when compared to living at home or hiring in-home care, your brother objects. You suspect it is because he does not want your mom to deplete his potential inheritance.
Another example: The sapphire brooch you have always admired goes to your sister-in-law. The model train set you loved setting up with your dad goes to your nephew. All of a sudden, you feel wronged.
Ensure your loved one has a will that spells out their wishes for their estate after they've passed away. If your loved one already has a living will in place, revisit it to ensure it is still an accurate reflection of their wishes. Any discrepancies in a will or trust will cause state law to decide where the assets go.
Family dynamics are complicated, and when stressful situations like this arise, it can be helpful to have an outside, unbiased person who can help you make very important decisions. Elder mediators provide a forum for family decision-making. A highly skilled conflict resolution expert and a neutral facilitator who does not provide advice or take sides, an elder mediator is helpful in family meetings, where they can help you stay focused on the topic at hand and help you avoid bringing up old arguments.
Legal and Financial Document Locator
Getting your family's legal and financial affairs in order can make family relationships less stressful, and knowing where official records are located as well as having copies of important legal and financial documents can make things a lot easier — especially amidst an unexpected crisis.
This Legal & Financial Document Locator can guide you through the process and serves as a handy tool to help you organize important documents, property, and contacts. By keeping all the most important legal and financial details in one place, you and your loved one won't have to scramble to find it or remember it during a crisis.