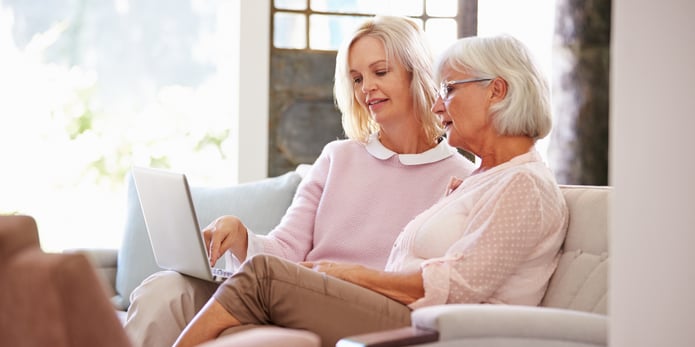 Do you have a 'what if' plan should Mom fall at home and can't reach the phone to call for help? Or what if Dad has a stroke and can't communicate verbally when the EMTs arrive?
If you're caring for an aging loved one, especially one who lives on their own, planning for an emergency might not be a priority. There are meals to make, doctor appointments to go to, and bills to pay.
However, preparing for an emergency, whether a medical crisis or severe weather, can not only give you peace of mind but also improve any care your loved one receives. Here are five steps you should take — just in case.
1. Talk to Your Loved One About Their Wishes
Before you start planning for an emergency, you need to know what your loved one's wishes are for their medical treatment and financial affairs in case of an emergency.
If your parent hasn't named a durable medical or financial power of attorney (POA), talk to them about why it's crucial they have those legal documents in place. If your loved one is struggling with memory loss, it's especially important to take these steps before they are unable to make those decisions on their own.
To break the ice, start by saying something like: "Dad, I don't want to upset you, but if something happened to you, I would want to know that your wishes were being honored. Do you have a will?" or "Mom, I want someone designated to make my decisions for me in an emergency, so I'm getting my paperwork together. I would feel so much better if you did the same."
Although it might be hard to talk about, once you have the right financial and legal paperwork and plans in place, the process of growing older becomes easier on everyone.
2. Organize Their Legal and Financial Records
Now that you've ensured your loved one has a financial POA and medical POA, a living will, and a standard will or living trust, it is critical that you know where their official records are located.
This Legal & Financial Document Locator is intended to be a helpful tool for use at home to organize your loved one's personal information. The worksheet includes spaces for you to keep track of where your loved one keeps their important documents, including personal and property papers, as well as any other important information, such as bank account and insurance information, personal advisors, and emergency contacts.
Once completed, provide copies to a few trusted family members as well as your loved one's lawyer and their power of attorney to have in case of an emergency.
3. Keep Track of Their Health History
Imagine this scenario: Your dad slips and falls getting out of the shower. Your mom calls the paramedics, but when they arrive, she can't answer any of their questions: Not only is she in shock, but she also can't remember all the medications he is on or which hospital his primary care physician practices.
Having your loved one's medical information in one place makes it easier to be prepared. This Emergency Medical Information Worksheet is intended to help you keep track of your loved one's medical information so it can be shared with paramedics, emergency room staff, and urgent care clinicians if they develop a need for urgent medical care.
There is space to keep track of emergency and medical contacts, insurance policy information, medical conditions and disabilities, and medications. By organizing their most important medical details in one place, you and your loved one won't have to scramble to find it or remember it during a crisis.
4. Partner with Your Loved One's Health Care Providers
Regular doctor appointments and medical check-ups are extremely important for older adults, many of whom are managing multiple chronic illnesses and the medications and treatments that accompany them. To ensure the doctor provides the best care for your loved one, it helps to come to every appointment prepared with your loved one's current health information.
These Health Information Trackers make it easier to keep track of blood pressure, blood sugar levels, and any changes you may have noticed in appetite, weight, sleep, or energy level. Use the Sleep Tracker to find out more about what affects your loved one's sleep patterns, print off the Blood Sugar Tracker to help you monitor your parent's blood sugar levels, or fill out the Symptom Tracker so you're prepared to answer the doctor's questions about your loved one's condition, symptoms, or effects any recent medication changes may have had on their overall health.
By keeping track of your loved one's basic health information as well as any health and life changes in between appointments, you can make a huge difference in their health and well-being.
5. Be Proactive When It Comes to the Search for Senior Living
Even if your loved one isn't ready to move to senior living anytime soon, exploring your options sooner rather than later will help you get comfortable with the idea and what to expect.
Here's the fact of the matter: It may never feel like the "right" time to move to senior living. So, many families wait until they experience a crisis or an unplanned event that forces them to make last-minute care arrangements. Being proactive can make all the difference.
Although you might have previously thought about senior living as an option only once you have significant care needs, there may be other reasons to consider making a move, including making new friends, enjoying a fine dining experience without having to step foot in the kitchen, and taking up an old (or new) hobby, all while potentially preventing health declines or a hasty decision.
To help you keep all this valuable information all in one place, we've created a Caregiver Toolbox containing the Legal & Financial Document Locator, the Emergency Medical Information Worksheet, and the Health Information Trackers.
Download the toolbox, explore the worksheets, and fill out the ones that are most helpful to you and your loved one. Being prepared — just in case — will help ensure a meaningful and caring future for you and those you love.