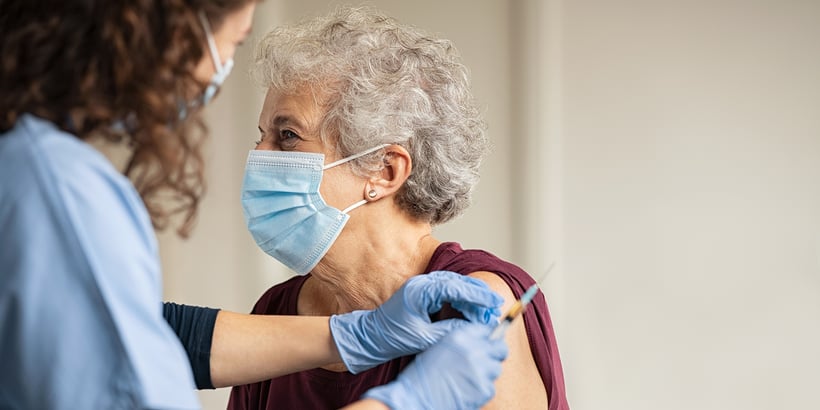 When COVID arrived in the U.S., Highgate Senior Living didn't wait for the Centers for Disease Control and Prevention to tell them what to do. "Highgate made the proactive choice of shutting down visitation and communal events early on," says Steve Lin, LPN, Healthcare Director at Highgate at Vancouver.

Highgate communities took enhanced safety measures, including providing information on hand hygiene and respiratory hygiene to all residents and increasing surface contamination control. Highgate communities screened residents and team members going to and from the building and implemented virtual visits in place of in-person visits. They adapted quickly and responsibly to ensure Highgate communities remained a place where older adults could grow, not simply live.
Highgate also partnered with local health systems and medical experts, pursuing new ways of delivering on-site health services by implementing the use of new technology. Highgate Senior Living ensured that residents were still able to maintain and develop new social relationships and interests, pursue hobbies, remain active, and access support and services.
Although the pandemic resulted in some large-scale and lasting changes to assisted living — telehealth and virtual tours for example — many things haven't changed: Assisted living still offers older adults a sense of community and opportunities for a purposeful and fulfilling life.
In this blog, you'll learn about Highgate's COVID response and vaccine rollout as well as what you can look for in an assisted living community if you're thinking of a move for yourself or a loved one.
Enhanced Safety Measures and Protocols
Assisted living communities across the U.S. have implemented strict health and safety measures to prevent community spread. Common areas like lobbies, elevators, and hallways are heavily sanitized. All team members are trained to follow best practices to prevent community spread of COVID-19 and are being screened before each shift for symptoms of the virus. Company policy requires team members to not come to work when they're sick.
"Early in the process, we partnered with local health departments as we ramped up our infection control procedures," Lin says. "We implemented strict screening procedures, daily routine symptom screening, terminal disinfection, social distancing, outdoor tent visitation, increased hand hygiene, and PPE usage for our residents and team members. When the vaccination for COVID-19 was made available, we conducted numerous education sessions with our residents and team members so they could make the informed choice to protect themselves and each other. Vaccination clinics were conducted at all Highgate communities with much excitement and relief. All of the precautions remain in place to this day. Currently, we are taking into consideration the vaccination status of the residents and their families and adjusting the precautions."
If you are planning a visit to see friends or family or tour an assisted living community near you, in general, you should be looking for indications that:
Outdoor visits are still preferred, but responsible indoor visitation is allowed while wearing a well-fitting facemask and physically distanced from other residents and staff.
Staff and residents are being regularly screened for symptoms.
Group activities are scheduled in a staggered fashion to limit the number of residents participating, allow them to remain at least 6 feet apart from one another, and ensure adequate cleaning and disinfection happens in between events.
Protective equipment like masks is being worn by staff.
Cleaning of public areas is being done more frequently than it was before.
Telehealth Capabilities and On-Site Services
Telehealth went from a nice-to-have service to a virtual necessity in 2020. At Highgate, for example, care partners worked closely with family, residents, and local providers to set up virtual visits with doctors.
"For residents who needed additional support, nurses, med aides, and preferred care partners sat in on appointments to help answer questions and facilitate communication," Lin says. "Family members who wanted to participate in the virtual appointments were conferenced in via speakerphone."
Many assisted living communities, including Highgate, will continue to offer telehealth visits as a safer, faster, and more convenient way for residents, and even staff, to connect with clinicians after the pandemic. Health care providers now offer online telehealth visits that are HIPAA-compliant and easy to use. Going forward, telehealth is poised to become more user-friendly and more widely adopted. More importantly, it may lead to more seniors being evaluated sooner at the first sign of symptoms.
Many assisted living communities also pursued new ways of delivering on-site health services through partnerships with other parts of the healthcare continuum. For example, Highgate communities collaborated with local health care providers and home health agencies to assist with everything from COVID-19 testing to bloodwork. "This allowed our residents and team members to have access to testing in the community and avoid the risk of leaving the community," Lin says. "For residents with routine blood work, we provided resources to local mobile labs that allowed the residents to safely age in place."
Ultimately, the pandemic strengthened ties between assisted living providers and the health systems in their markets, which laid the groundwork for closer integration even after the pandemic. "Our executive directors have been in regular contact with local health care jurisdictions and agencies," Lin says. "They continue to advocate for our residents' physical health and mental health. They voice the concerns of long-term care communities and also the specialized needs of memory care residents that often get overlooked."
Emphasis on Holistic Health and Wellness
The pandemic brought to life just how interconnected all the dimensions of wellness are, especially for older adults. For residents to be at their best, it's not just about having a healthy body. They also need to have a sense of purpose in life, meaningful relationships, and a safe living environment.

To help residents live their best life during COVID, Highgate focused on enhancing all eight dimensions of wellness for older adults. In contrast to the "medicalization" of aging, which spreads the notion that aging is a disease that must be treated with medicine, the eight dimensions of wellness for older adults offer a holistic approach. When older adults view themselves as a whole person — not just in terms of their deficits — it becomes increasingly possible to age well, even during a pandemic.
Safer Socialization
When the pandemic hit, many assisted living communities quickly moved their regular speaker series, tea parties, and cocktail hours online. Many communities also introduced virtual, interactive programming, including lectures and discussions, spiritual studies, fitness classes, book clubs, knitting groups, and more.
Even during the coronavirus pandemic, Highgate residents participated in socially distanced exercise, sat on the patio discussing politics and grandkids, went on fishing outings, and celebrated birthdays together.
Now, new communal practices like scheduled dining, small group gatherings, frequent sanitation, testing, and vaccines allow seniors to move about assisted living with confidence. For new residents, team members can facilitate introductions to people and activities that match their individual interests, allowing them to contribute to a vibrant community.
For people who prefer them, Zoom meetings, virtual tours, virtual happy hours, and video chats with friends and family will likely continue long after the coronavirus has been contained. These new technology tools make life easier, safer, and more engaging for residents.
Innovative Dining Options
At the start of the pandemic, Highgate quickly pivoted to in-unit dining, taking cues from the hospitality industry and mimicking the room-service experience. Team members offered a coffee cart in the morning and a happy hour cart in the evening.
As communities continue to adapt their dining and foodservice programs for the future, they are experimenting with a variety of options that prioritize the health and safety of residents and staff while also providing an engaging, nutritious, and delicious experience for residents.
The New Normal
If you have an older loved one, you may have put plans to move them into an assisted living on pause. But, for many seniors, assisted living is still the right choice.
Seniors who live alone have most likely been completely isolated during the pandemic. This can present dangers for both physical and mental health.
When you consider the steps that assisted living communities like Highgate are taking, the fact that residents do not need to leave for essentials, and that assisted living communities offer safer socialization than anywhere else, your loved one may be safer, happier, and healthier in assisted living than at home.
"Prospective residents can expect continued progress toward life as we knew it in 2021," Lin says. "They can expect Highgate to be a community that is experienced and well-prepared to protect them and our team members. A community that does everything it can to protect the residents within it and, at the same time, strives to give every opportunity for our residents to connect with their families safely. Residents and team members at Highgate become part of a second family as they are a big part of one another's lives."
For a more in-depth look at what assisted living looks like in a post-COVID world, check out our Is Assisted Living Just Like the Nursing Home? eBook. You'll learn even more about the new normal in assisted living communities, the different types of communities that fall under the broad senior living umbrella, and how COVID was handled in assisted living communities compared to nursing homes.