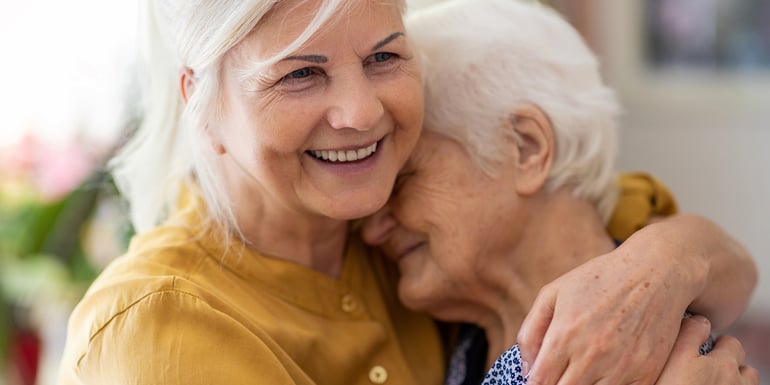 Like many adult children seeking care for a parent, Lisa was nervous about moving her mom, Mary, into a memory care community. But now, Highgate at Temecula feels like home to them both.

For most of Lisa's adult life, she lived near her parents. When Lisa married, her parents followed her to Riverside, California. And when her father passed away, her mother moved in with her and her family. A stay-at-home mom to two teenagers, Lisa enjoyed having her mom close.
But Lisa had also started to notice that her mother wasn't doing super well. Her mother wasn't sleeping well, and when Mary was home alone, Lisa worried that she wasn't safe. "Everyone was tired," Lisa says.
Hearing About Highgate
Lisa's family explored home care options but, for a variety of reasons, chose not to pursue this option. Then someone at a church-run support group recommended Highgate from personal experience. She had moved her husband into Highgate's memory care community and they loved it.
Lisa hadn't heard much about memory care before that conversation. She knew her mom was struggling with her memory, but she herself was struggling with the idea of a move to a memory care community. "I was concerned about moving her to memory care too soon," Lisa recalls. "I was worried memory care could actually progress the dementia." It's a common fear among families.
But dementia is a progressive brain disease that has potential to get worse in any environment. Although moving someone who is in late-stage dementia can definitely cause confusion and disruption, leaving someone who is no longer safe or engaged in meaningful activities throughout the day can cause a swift decline.
The benefits of an engaging environment and staying mentally stimulated through activities, conversation with others, and a routine schedule are just a few reasons families consider a community setting.
The specialized training care providers undergo to work in a memory care community is also an added benefit. Memory care community team members and care partners have been trained to watch for certain signs and understand specific situations that can arise when someone has memory loss and, more importantly, are trained to provide support. And for companies like Highgate that are passionate about providing high-quality memory care experiences, the training far exceeds state minimum requirements.
It took some time for Lisa to get used to the idea of memory care — but she saw the need. She needed the caregiving support: "I wanted my mom to be happy, engaged, safe, and taken care of," Lisa says.
Lisa and her family narrowed down their options to Highgate and another place a little closer to home. Ultimately, Highgate won her over.
"I was impressed with the staff there, with everything. I just kept going back to Highgate."
A Personalized Approach to Memory Care
One of the biggest factors that draw residents and their families to Highgate is its person-centered approach to caring for those with dementia and memory loss. Grounded in internationally recognized dementia practitioner Teepa Snow's Positive Approach to Care, person-centered care focuses on the whole person, not just the medical conditions or ailments that limit them, by working to meet each individual's social, mental, emotional, and spiritual needs.
For Lisa and her mom, Mary, the benefits of this holistic and personalized approach are numerous. "Mom is stubborn," Lisa says. "She fights everything and everybody. There is a lot of emotion and aggression. But the staff there do everything they can with different ideas and approaches. For example, they noticed that different pants helped make her more comfortable. They get to know her — her likes, her dislikes."
That's because everything in the person-centered approach model depends on personal preferences, values, personality traits, and the individual's life story. When Highgate care partners talk with Lisa about Mary, she finds herself thinking, "Yes, that is my mom." They know what she likes to eat, her favorite desserts and ice cream, her makeup preferences, her personality.
Lisa recently visited her mom at Highgate at Temecula. She curled Mary's hair and painted her nails. "The care partners immediately noticed and told her how beautiful she was," Lisa says. "It means the world to me. Mom recognizes the care partners. They talk to her at her level. She can feel they care for her. This is really important to me."
They care for Lisa, too. The Highgate team knows her by name and checks in with how things are going with her family. "It feels like home," Lisa says. "Even Kathleen [the Executive Director] checks on me from time to time, and if I have a question or concern, she gets right back to me."
Confident in Highgate Care
These days, Lisa is the one recommending memory care at Highgate to friends and family. "They can be very confident putting their loved one here," she says.
To read more stories from families about how memory care at Highgate helped their loved one live a positive life, download our eBook How Highgate Senior Living's Person-centered Care Approach Helped My Parents Live a Positive Life.