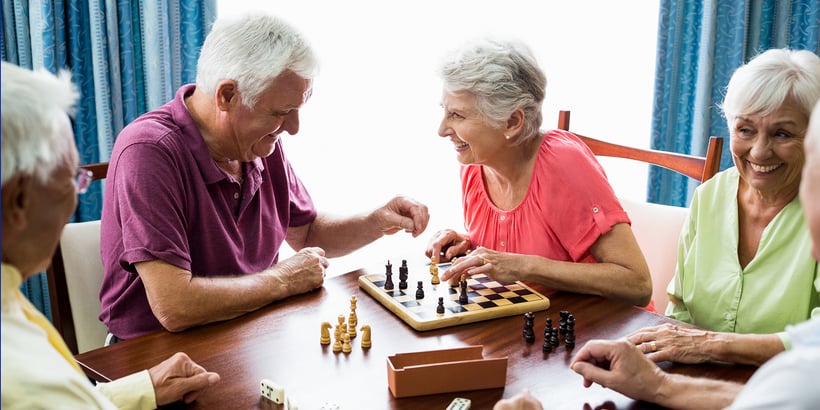 Each resident who comes to Highgate has their own life story that has shaped who they are and who they're on their way to becoming. Our life stories aren't just a biography of the facts and events of a life — they're a form of identity.
At Highgate, gathering our residents' life stories is one of the first and most important things we do. Once a new resident is settled, someone from the Life Enhancement Team stops by to conduct a Life Story Interview. The Life Story Interview helps team members better understand the history of each of the residents and share their story with other residents. The information also helps care partners offer individualized care based on each resident's personal preferences, values, and personality traits.
"For example, we learned one of our residents really doesn't want any outside intrusion and very much likes to keep to himself," says Melle Sands-Snyder, the Life Enhancement Coordinator at Highgate at Billings. "To meet his needs spiritually and intellectually, we set up our bookmobile to get him videos and books that he would enjoy. I found that he loved dirt bikes and watching videos of races and was able to pinpoint some websites and magazines that we could bring to him. It helped open the lines of communication with him while still respecting his privacy."
Here's a closer look at Highgate's Life Story interviews and how they help residents smoothly transition to the senior living community, as well as enable care partners and team members to provide individualized care.
How Life Stories Help Create Purposeful Programming
Highgate communities are full of people with different backgrounds and lived experiences. At Highgate at Billings, there's a biochemist, a commercial artist, and a candy maker. Jim was a paleontologist and worked for NASA before he moved into Highgate at Temecula. An Army veteran who stormed the beaches of Normandy and lived to tell the tale lives at Highgate at Great Falls.
The Life Enhancement Coordinators use these diverse interests and passions to understand what brings meaning to each resident's day and elicit ideas and information that allows them to plan programming for the residents so they can continue to live a life of purpose.
Tawna Wittenberg, the Life Enhancement Coordinator at Highgate at Great Falls, shares how she uses Life Story Interviews to plan purposeful programming:
"Peter was a candy maker his whole life, so we had him bring his family in and give a presentation on making some delicious peanut brittle. A lot of the ladies were homemakers and like to feel needed. Joann loves to help with laundry, help bake cookies, and do simple household tasks. Ivy is still in a gardening club, and she loves to orchestrate our flower arranging that we do twice a month."
How Life Stories Help Build Friendship
Living at home can be isolating. It's one of the reasons why moving to a senior living community is so beneficial: Assisted living residents gain access to a strong social environment and support network.
Highgate communities have a Resident Ambassador program, with seasoned residents who have lived at Highgate for a while, to show new residents the ropes. Thanks to each resident's Life Story Interview, team members can reach out to someone in the Resident Ambassador program who has something in common with the new resident.
"Having a Resident Ambassador program in place helps the new resident adjust to Highgate at a quicker and smoother rate," says Mandy Ketcham, Community Relations Coordinator at Highgate at Yakima. "This also allows family members to feel confident that their loved one will make friends. They seem to be less worried that their loved one won't adjust or fit in."
For example, Wittenberg learned from several Life Story interviews that a handful of residents love to play cards with friends and family. So she set up some resident-led card games — Cribbage and Pinochle are fan favorites. "Every week, Blanche will go around and ask several people to come up and play," Wittenberg says. "She has been able to connect with several residents over their love of card games."
Sands-Snyder at Highgate at Billings also learned through Life Story interviews that many of her residents enjoy playing cards, as well. Now there are over 18 residents in the Poker Club.
"Life Stories are so helpful to me," Sands-Snyder says. "I am able to review each Life Story and then introduce my residents to others who have similar tastes. It opens the door to so many friendships and future activities for us."
The Importance of Life Stories in Memory Care
In Highgate's memory care communities, some of the residents can still participate in the Life Story Interview. Other times, they're at a point where their family must share their past. Most of the time, family members are happy to be able to do this, especially once they understand how it helps team members know more about their loved one.
"We have a new resident, Torie, who just moved into the Cottage," Wittenberg says. "She always talks about how she misses her horses — she had seven! I have an outing planned for her and a few others to go out to Eagle Mount where they can feed, brush, and walk the horses. They also have goats and chickens for the residents that grew up on a farm."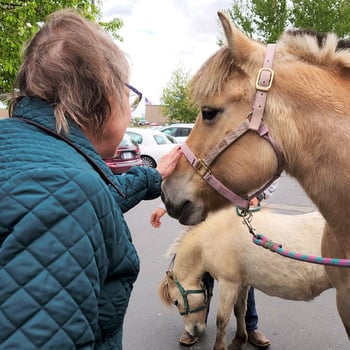 Sands-Snyder says the Life Story Interviews can help family caregivers see their loved ones living with dementia in a new light: "With the stress that dementia can put on caregivers and family members, they may begin to view a person living with dementia only through the lens of the disease, not as a whole person. Life Stories tend to bring the whole person into view.​ Hey, Mom and Dad are still people, too. For me, it opens my eyes to the great lives that our residents have lived. I like to read each Life Story thoroughly and bring it up in conversation using little anecdotes tailored to that specific resident. I have noticed more often than not it sparks a little light in the resident eyes. Our Life Stories for our memory care residents are so helpful; it helps us create a holistic, individualized approach to their care."
Hope and Happiness
It's a common misconception for many seniors that moving into a senior living community is the beginning of the end. But that couldn't be further from the truth. Many people move to senior living so they can actually live their life to the fullest — even reinventing themselves along the way.
In Hope & Happiness, you'll hear from seven residents, some of their family members, and a few Highgate team members as they share stories about life before Highgate and how moving into a community setting changed their lives — and their Life Stories — for the better.