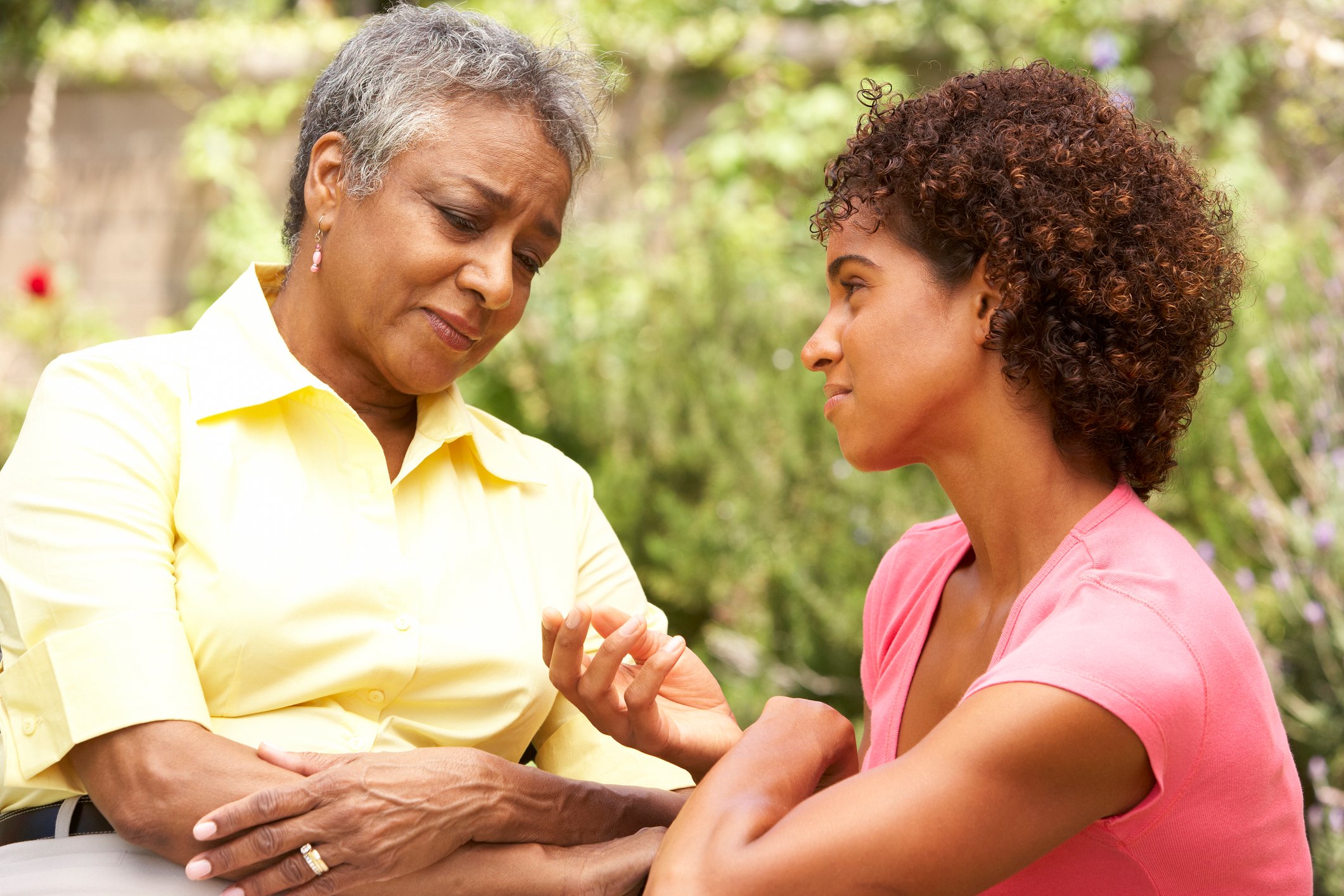 Lisa and her husband lived in Mississippi for six years before they decided to move back to Great Falls, Montana. A self-proclaimed "military brat," Lisa had grown up moving constantly and then married military, so she was happy to return "home" and closer to family.
This time, instead of living with her parents, her parents were going to live with her.
The In-Law Suite
Her mom, Beverly, had broken her knee a few years prior, and her dad, James, was showing signs of dementia. When buying a house, Lisa and her husband chose a home with an in-law suite.
"My parents had the basement to themselves, and we lived upstairs," Lisa says. "I was able to cook and clean and do those kinds of things to help my mom, and that allowed her to take care of Dad."
However, it was not long before Lisa was taking care of both her parents.
The Caregiving Creep
Sometimes caregiving can be triggered by a crisis, such as a fall or a stroke. Oftentimes, it creeps up on you.
You start by dropping by your dad's house to make dinner once a week and enjoy time together. Then you find yourself doing the laundry while you are over. It is not long before you are doing the grocery shopping and picking up his prescriptions.
"It wasn't one day I woke up and was like, 'Whoa, I'm a caregiver,'" she says. "It was a gradual thing. I started noticing that I'm doing more every day and she's doing less."
Then guilt started to set in.
The Transition from Daughter to Caregiver
When you become a family caregiver, there are a lot of emotions that are bound to surface. Maybe you fear all the things that "might" happen while being a caregiver. Perhaps tiredness takes over because you cannot fall asleep while worrying about the many stressors that come with being a caregiver. If there is one emotion that nearly anyone caring for an aging loved one can count on, it is guilt.
Guilt is a feeling of having done wrong or failed in an obligation. It is a part of the human experience, and it will likely be part of any caregiving experience. Caregivers often burden themselves with a long list of self-imposed oughts, shoulds, and musts.
"I felt guilty because — this is going to sound awful — I resented that I was taking care of them," Lisa says. "I resented that it started as, 'We're moving in here so you can help me take care of Dad,' but then it ended up that I was taking care of both of them."
The Big Question
Shelley Phoenix, a Sales Specialist with Highgate Senior Living, works with a lot of families in situations similar to Lisa's.
"I hear a lot of families going: 'Am I doing the right thing? Is it the right time? I get Dad's got dementia, but it's not horrible. When is the right time for memory care?'" Phoenix says. "Now, I say. Let us get to know him. If you wait until the end, all we're doing at that point is care. But when we can get to know someone, we can give them purposeful living. We can find what gives them joy and bring that joy to their life. Then when the end comes, they have a friend with them."
Lisa and her siblings — she also has younger siblings in Virginia and Oregon — grew up asking their parents questions about money and end-of-life matters, such as who they wanted to be their health care and financial power of attorneys.
What they did not grow up talking about were the emotions that are bound to surface when you care for your aging parents, the true cost of caregiving, and what to do when that burden becomes too much to bear.
"I wish I had talked to someone who had been through this," Lisa says.
That is why Lisa is sharing her family's story. To read their story and learn how Highgate Senior Living helped her family feel good again, download our eBook From Guilt to Gratitude.