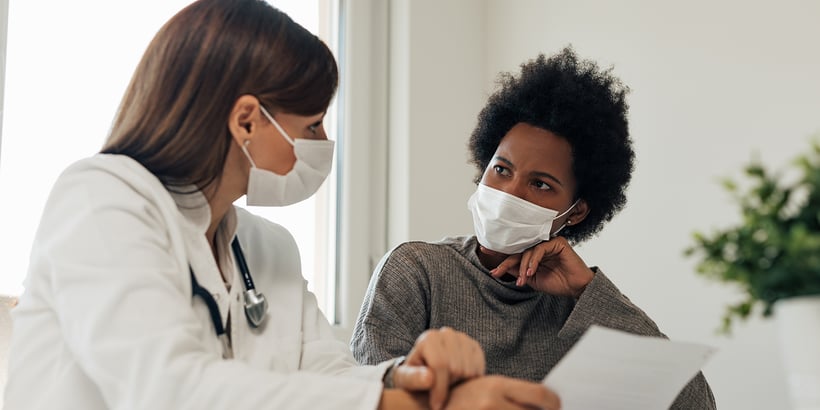 As your parents or loved ones age, there's a high likelihood that you will be faced with a hospitalization after an illness or an emergency. In fact, a study by the CDC completed in 2021 found that, of those who visited an emergency room, those between the ages of 65 and 74 were hospitalized 32.4% of the time, those between the ages of 75 and 84 were hospitalized 37.2% of the time, and those 85 and older were hospitalized 43.4% of the time. Knowing what to expect and what to plan for can make the discharge process and transition back home easier for family and your loved one.
What Is Hospital Discharge Planning?

Whether your loved one experiences a heart attack or a fall or they are admitted to the hospital to undergo surgery, there will likely come a point when their doctor determines that they've recovered enough and no longer need hospital-level care.

Some people are well enough to get proper care and rehab at home, like physical or occupational therapy. Others may need a short-term stay in a rehab or skilled nursing facility.

Discharge planning is the process that determines the type of care your loved one needs after they leave the hospital. You might get support from a hospital social worker, nurse, or case manager. But it's also important to remember that, as a family caregiver, you are the "expert" in your loved one's history as well as your own abilities to provide care and a safe home setting.

By the time your loved one is being discharged, you should have a written discharge plan that includes:
Physical condition of your family member both before and after hospitalization
Details of the types of care that will be needed and whether discharge will be to a facility or home
Whether your loved one's condition is likely to improve
What

activities

they might need help with
Information on

medications

and diet
What extra equipment might be needed, such as a wheelchair, commode, or oxygen
Who will handle

meal preparation

, transportation, and chores
Possibly referral to

home care services

Date and time of the follow-up appointment to see the doctor
Not all hospitals are able to spend enough time adequately preparing you to take over your loved one's care. That's why it's so important to be a strong advocate and make sure you both have all the necessary information before leaving the hospital. After you leave, it becomes much harder to get helpful answers.
Why Preparing for Discharge Is So Important
Research shows that strong discharging planning reduces the likelihood that your loved one will be readmitted to the hospital. It can also help ensure medications are given correctly, improve their outcomes as they move to the next level of care, and, ultimately, decrease health care costs.
Here's are a few examples of how good discharge planning helps prevent added stress for the whole family when the discharge date arrives:
Some of the care your loved one needs might be quite complicated. It is essential that you get any training you need in special care techniques, such as wound or catheter care, procedures for a ventilator, or transferring someone from bed to chair.

Medication errors

can be dangerous. A thorough review of all pre-hospitalization medications as well as the post-discharge list will help ensure that there are no duplications, omissions, or harmful side effects.
If you need to hire paid in-home help, you have some decisions to make. If discharge planning starts early, you'll have more time to research your options while your loved one is cared for in the hospital.
If your loved one is being discharged to a rehab facility or nursing home, you must select the facility, which can be a source of stress for families. The earlier you search for a facility, the better.
Worried About Leaving Too Soon?
If you think you're being asked to leave the hospital too soon, you have the right to appeal the decision. Your first step is to talk with the physician and discharge planner and express your reservations.
If that isn't enough, you will need to contact Medicare, Medicaid, or your insurance company. The Beneficiary and Family-Centered Care Quality Improvement Organization will review the discharge decision. If the organization rules against you, you will be required to pay for the additional hospital care.
What to Do If Your Parent Is Being Discharged
The time to develop the discharge plan is the minute your parent is admitted. Whether this is your first discharge experience or third, here are some tips that can help.
1. Connect with the Discharge Planner
Ask the hospital to connect you with the discharge planner. Schedule time to speak with them right away. Ideally, the discharge planner should begin their evaluation when your loved one is admitted to the hospital. Take the time to write down any questions you have beforehand so that you don't forget them.
2. Determine What Care Is Needed After Discharge
Find out what kind of post-hospital care is needed. Your parent may require some time in a post-acute care facility, where staff with skilled nursing services can look after them. After that, they may transition into assisted living or return home, depending on their needs. It helps to understand what kind of care your parent is likely to need initially and later on.
3. Research Care Facilities
If your loved one is being discharged to an assisted living community or nursing home or if you'll be bringing in-home care, you'll need to thoroughly research options near you. Though the hospital may provide you with a list, you'll want to evaluate them for yourself. Here is a checklist to help guide you through researching assisted living communities.
4. Have a Plan that Includes How to Pay for It
You might not be aware that insurance, including Medicare, does not pay for all services after someone has been discharged from the hospital. However, you may be able to get coverage for certain skilled care or equipment.
Check with the hospital, your insurer, or Medicare to find out what might be covered and what you will have to pay for. Here is a guide to the costs associated with assisted living and the most common funding options family caregivers may not be aware of.
4. Get Your Questions Answered
Ask questions throughout the process. Take notes, as the answers might be complex and it can be helpful to refer back.
Here are some places to start:
Ask the staff about your loved one's health condition and what they can do to get better.
Ask about problems to watch for and what to do about them.
Ask about any new prescription drugs, over-the-counter drugs, vitamins, and herbal supplements, and ask the staff if your loved one should continue taking the drugs, vitamins, or supplements they took before they were admitted.
Ask if your loved one will need medical equipment (like a walker) and who will arrange for this.
Ask if your loved one is ready to do

activities of daily living

.
Ask the staff to show you and your loved one any tasks that require special skills (like changing a bandage or giving a shot).
Ask for written discharge instructions and a summary of your loved one's current health status.
Medicare also offers a fact sheet with more specific questions you can ask doctors, nurses, and social workers before your loved one is discharged.
5. Make a Follow-up Appointment
Before your loved one leaves the hospital, make sure you have a telephone number accessible 24 hours a day, including weekends, for care information. You should also make a follow-up appointment to see the doctor.
Help for Family Caregiver's
Whether you are a primary caregiver for a parent or have assumed the role of helping figure out the next steps after a hospital discharge being prepared before your loved one actually leaves the hospital will make a big difference in your loved one's healing and your family's ability to ensure they get the help they need.
For more tips for family caregivers, subscribe to our mailing list. You'll gain priority access to the most recent Aging Wisely blog articles as well as helpful resources and checklists.