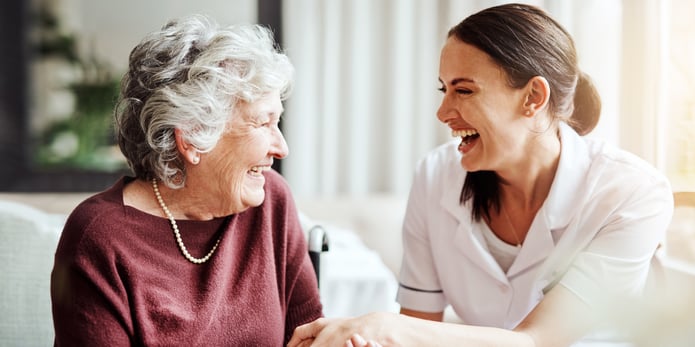 2020 has certainly been a difficult year. But amidst the challenges, we still have plenty to celebrate. Here's a look at Highgate Senior Living's year in review.
Highgate's 25th Anniversary
This year, we celebrated our 25th anniversary of serving seniors and their families — and of changing what people come to expect from senior living. When founder Howard Addison started the company a quarter-decade ago, long-term care looked quite different. In 1995, we were in the era of community-based services, but vestiges of the era of nursing homes remained. Many long-term care facilities were still built around the old military model of efficiency and most services were strictly medical in nature.
"Howard saw the need for more assisted living communities," says Amelia Adkins, Highgate's Senior Director of Marketing. "He saw that there was home or nursing home and nothing in between, so he opened his first community Bellingham, Washington, and expanded from there."
At Highgate at Bellingham, Addison created an assisted living community based on a social model. Unlike a nursing home, which more closely resembles a hospital, the assisted living and memory care community at Highgate was more like an apartment complex that also offered holistic care, purposeful programming, and flexible dining options.
Guided by the core values of integrity, devotion, innovation, energy, and leadership, Addison and the team he developed at Highgate not only set the standards in senior living but also developed new and better ways to help residents, run communities, and stay on the cutting edge of senior care. Since opening Highgate at Bellingham 25 years ago, Highgate has opened nine more communities. Residents and families alike say that Highgate helped them make this chapter the most active, meaningful, and fulfilling yet.
"Life at Highgate is full of choices," says Addison, President and CEO at Highgate. "We make it our business to find out the individual preferences of our residents, who have the freedom and flexibility to live a life that is truly their own."
Our New Website
Where's the first place you go when you have a question? Depending on the question, you might ask a friend or family member. You might head to your doctor. But you'll most likely, inevitably, end up online.
For many years, the Highgate website has been a treasure trove of answers for seniors and their loved ones looking for information about caregiving, assisted living, memory care, senior living, and how much it all costs. But the site needed a facelift.
We spent the past year partnering with a web design company to redesign the website so it gives users a feel for what it's like to actually live in one of our communities, and this fall, our website won a user experience award from W3.
"The biggest and best updates are the streamlined navigation, more real estate for images, better readability, and access to helpful resources," Adkins says. "It better serves the people researching senior living by helping them get a chance to speak with a community faster and more access to relevant resources to help them in their journey."
A few of the newest resources include:
Flagstaff Groundbreaking
We're bringing Highgate to Flagstaff! In July, we broke ground on Highgate at Flagstaff, our 10th community and our second in Arizona (Highgate at Prescott opened in 2011). Set to open in spring 2021, Highgate at Flagstaff will be the newest assisted living and memory care community in the Flagstaff area.
"With limited assisted living options for the senior population in Flagstaff, we saw not only the market need but also the opportunity to offer what all Highgate communities have to offer, which is helping every resident live a life of purpose," Adkins says.
Adds CEO Marjorie Todd: "We at Highgate spend a lot of time working through the process of where to build the next new senior living community. We have invested time, energy, and resources in getting to know Flagstaff, what's important to its people, and how we can best be of service to them. We have established a clear need and not a lot of options for high-quality, holistic care for seniors delivered in an environment that feels like home."
"Although we don't develop new communities rapidly," she continues, "we develop them with thought and intended purpose. We will be so pleased to see this community open and thrive as we celebrate our 25th year of serving seniors."
The Highgate at Flagstaff building is still being constructed — check out the progress on the community's Facebook page! — but it will be hosting in-person tours when it is ready, implementing safety protocols for all visitors. There will also be a virtual tour experience available prior to the completion of the community.
Our First 20-year Team Member
Highgate isn't just a great place for seniors to live. It also offers care partners and team members a warm and supportive work environment where everyone is treated like family.
This year, we're celebrating our first 20-year team member, Nida Sanders. A care partner at Highgate at Wenatchee since 2000, Sanders is a "true treasure," Adkins says. "She has so much dedication and devotion to each and every resident."
Brooke Capps, the Resident Care Coordinator at Highgate at Wenatchee and Sanders' supervisor, says that from the time Nida walks in the door each morning she's laughing, dancing, and talking with all the residents — and they adore her. Capps shares a story: "I have a resident who moved in, Lucille. Her husband, who has since passed, lived with us several years ago. When it came time for Lucille to find a place to live, she came to us at Highgate. And when she found out that Nida was still here, she asked her to be her Preferred Care Partner because she knew it would be done right and done with love. 'I don't care what days I have my showers,' Lucille said, 'as long as it's Nida here to do them!'"
Highgate Together
If there's one thing we're good at here at Highgate it's taking care of those in our community. This year, we created Highgate Together to offer an added level of support to those who work at Highgate Senior Living and experience a life-changing hardship.
"Highgate together is just one way that we can come together and support one another," Adkins says. "Our team members give so much to our residents and our communities overall, so creating this support nonprofit to help those who qualify out in times of need is the least we can do."
Grants will be made available for members of the Highgate team who have experienced life-changing events, like a natural disaster, a family tragedy, a complex medical condition, or other personal circumstances.
"We are truly a family, so setting up this opportunity to support one another is a no-brainer," Adkins says.
Despite the challenges 2020 brought, it was also a strong year for Highgate Senior Living. To stay in the loop during the year ahead, subscribe to our mailing list.