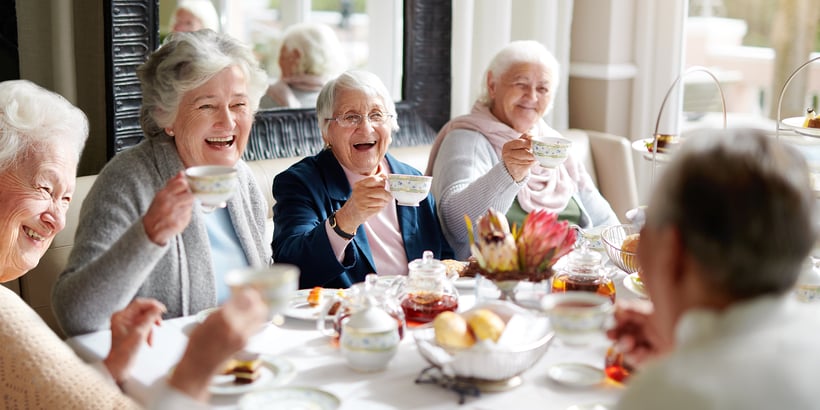 So you've heard about assisted living. But what exactly is it? How is assisted living different from nursing home care? And how does assisted living work financially?

Until you or a loved one needs assisted living, you probably haven't spent much time thinking about it. If your loved one has an urgent need — perhaps they've stopped driving or recently suffered a fall — there's suddenly a lot to consider.
Even if you're being proactive in your search, there is an increasingly wide and diverse array of assisted living options, each with its own care philosophy, dining program, cost structure, life enhancement and activities programs, and community vibe.
That's why it's never too soon to start exploring your assisted living options. Each step you take — researching online, reading a community's blog and resources, requesting information from communities, stopping by for an activity and a tour — will equip you with the information you need to determine what's best for you and your family.
So if you're just getting started, you're in the right place. Here are answers to some of the most common questions about assisted living.
1. What Is Assisted Living?
Assisted living communities offer apartment-style living options that allow residents to live in a private, home-like environment while receiving as much or as little assistance as desired. Residents in a community may need help with many facets of daily living — like managing medications or showering — or might need help with only a few.
Services are personalized to meet individual needs, so residents remain as independent as possible for as long as possible, yet they have access to care at a moment's notice. The most common services provided are:
Housekeeping
Meals
Laundry
Transportation services
Social and wellness programs and activities
Medication management
Assistance with using the bathroom, dressing, and grooming
Services from one community to the next may be different as well as the cost associated with the services your loved one might need.
One to three meals are typically offered in a dining room (depending on the community), and residents have access to a social activities calendar. Communities that emphasize an active lifestyle will typically offer activities that cover a wide variety of interests. Recreational programs and dining programs can vary greatly from community to community and can be quite robust.
Ultimately, assisted living is designed to minimize the need to relocate by offering an age-in-place environment that meets the needs of residents regardless of how their health or mobility may change.
2. How Is Assisted Living Different from a Nursing Home?
Assisted living often conjures up outdated images of an "old folks" home. But assisted living communities provide assistance with activities of daily living and socialization in a residential setting, whereas the nursing home industry caters to frailer, more vulnerable adults in a clinical setting.
Residents who live in a nursing home typically require around-the-clock medical care and the presence of a nurse 24 hours a day. Oftentimes, nursing homes more closely resemble a hospital setting, and staff primarily wear medical scrubs. In assisted living communities, staff members may wear T-shirts or polos with the company name and jeans or khakis as their uniform. Although care is still an essential component in assisted living, communities focus on creating a home-like environment. For example, in a nursing home, a nurse's station might be the central focus of a common area. Whereas in assisted living, common areas often resemble living rooms, inviting residents and families to use those spaces.
While both nursing home and assisted living communities offer activities for large groups (like bingo), many assisted living communities offer more large-group activities that are off campus, such as day trips to a theater or local fine dining restaurant). Emphasis is also placed on small-group activities that cater to a variety of interests — a book club, sewing club, or knitting club, as examples. Activities programs in a nursing home typically cater to many residents participating at one time.
3. How Much Does Assisted Living Cost?
Pricing of assisted living can be best understood when broken into two parts: the cost of the apartment and the cost associated with health care services.
Your rental rate for the apartment you have chosen varies based on the apartment size, style, or sometimes location of the apartment. Some communities offer only one or two different styles of apartment but use value pricing to allocate a higher cost to apartments that are closer to elevators, have better views, or are on the first floor of the building.
Unlike a stand-alone apartment complex, assisted living communities include other benefits that are typically tied into the rental rate, such as:
Utilities
Some form of laundry and housekeeping services
Maintenance
Recreation programs
Dining programs
Assisted living costs for supportive care services also vary greatly. Some assisted living communities offer à la carte pricing where you are able to individually select the services your loved one needs. Other communities have an all-in-one pricing package based on which level of care your loved one needs. A third option for assisted living service pricing is the all-inclusive concept, which accounts for every amenity and service in one bundled price.
4. How Do Most People Pay Assisted Living Costs?
Many families mistakenly think that Medicare will cover the cost of assisted living, but Medicare isn't designed to pay for long-term care.
Most families pay for assisted living using a combination of personal savings, retirement accounts, veterans benefits, pensions, and Social Security payments. Some families also choose to sell a home or other assets to pay for assisted living. About 5% of seniors carry long-term care insurance, and benefits for assisted living can vary between $1,500 to more than $9,000 per month.
There are some lesser-known ways to pay for assisted living, such as life insurance benefits and conversions, reverse mortgages and home equity lines of credit, annuities, and bridge loans. Always speak with a financial adviser before taking risks with investments and assets as there are several other ways to get financial assistance for assisted living, such as tax credits and deductions related to assisted living, which can reduce a family's overall tax burden and free up additional financial resources to be put toward assisted living costs.
5. Who Is Right for Assisted Living?
If you walk into an assisted living community, you're just as likely to see an 82-year-old as you are a 102-year-old. Assisted living might be right for you or your loved one if:
The maintenance of a house and grounds is no longer a wanted responsibility.
You have a shrinking social circle and are getting lonely living at home alone.
They have lost a spouse and feel that joining a community of people their own age would help.
You want to move to be closer to family but don't want to necessarily live with them.
They want or need assistance taking prescribed medications as instructed.
You have multiple physicians involved in your plan of care and want assistance managing chronic health conditions.
They suffer from a chronic health problem that is or will get worse.
You have difficulty with a balanced, nutritious diet.
They have difficulty with activities of daily living, such as dressing or showering.
Assisted living not only creates an environment that supports those who are in need of assistance, but often offers an environment where one can thrive. Many people find that they have more freedom in assisted living to enjoy their hobbies and interests than they did living at home. Surrounded by people their own age, residents become part of a loving, supportive community, and an ongoing schedule of activities makes it easy to get connected, develop a new hobby or interest, and stay active.
When the time comes that a resident requires more assistance, assisted living team members adjust their level of care to meet changing needs.
The Definitive Guide to Assisted Living
So when is the right time to start looking at assisted living? What are the pros and cons of each pricing model? What are the next steps to take to continue researching?
Check out The Definitive Guide to Assisted Living Facilities eBook. This guide will provide more details about what assisted living is and how you or a loved one can benefit from it. It also goes more in-depth about what you can generally expect in an assisted living community and will answer some more frequently asked questions.