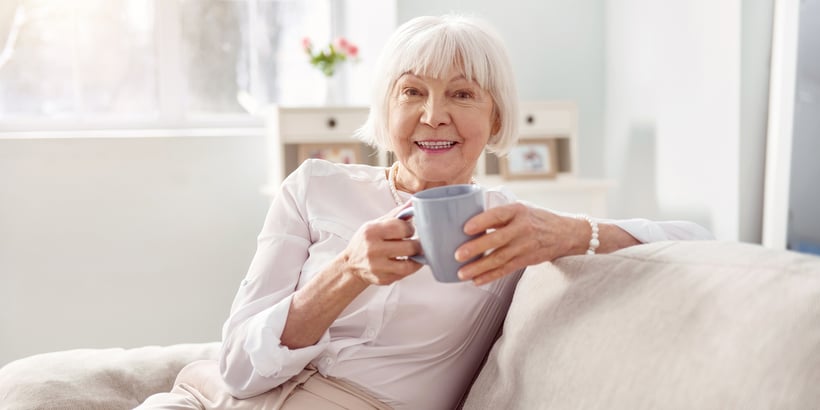 When Sally and her husband, Randy, moved into Highgate at Wenatchee, they brought TV trays. It made sense at the time: At home, they often ate while watching TV.
Ever since they moved into Highgate, however, they eat in the dining room with other couples and new friends.
"We love to eat in the dining room," Sally says. "We actually asked our daughter to bring the TV trays to her house or to get rid of them because we just love the dining room. It's much better than eating in front of the TV."
It can be hard to know what to bring when you're moving into an apartment in a senior living community. Sure, there are packing lists and articles out there about how to make the apartment feel like home, but sometimes you don't know what you don't know.
That's why we asked a few of our Wenatchee residents for advice on moving to Highgate. They offer insights on what to bring, what not to bring, things they wished they brought, and moving in general.
Something You Wish You Brought
Although Sally doesn't need the TV trays anymore, she says she does wish she had brought a few sets of silverware.
"Our daughter said that we would be having our meals here, so I just tossed all of ours and brought a couple of plastic sets," she says. "Every now and then, we have a meal together in our apartment, and it would be nice to have some silverware. Just a set each. Matter of fact, this is my reminder to go out and get some!"
Something You're Glad You Brought
Sally's husband, Randy, says he's glad he brought the DVR:
"It's nice to be able to go out to have dinner or play cards and other activities but then be able to come back in and have our favorite shows recorded."
Keith, a fellow Wenatchee resident, says he's glad he brought comfortable walking shoes:
"I came here in a wheelchair, but I was determined to get back to walking — and here I am. I walk every day. I walk in the walking group and on my own, too. You need comfortable shoes for that."
Something You Brought But Didn't Need
James says he doesn't need the big TV he brought from home.
"I am not in my room to watch it much," he says. "I watch the games and everything in the entertainment room with friends."
Sam lives at Highgate at Wenatchee with his wife, Marion. He says they brought their Instapot but hardly ever use it.
"I used it a lot at home, but the food here is so good I definitely won't be using that Instapot. You want it? You should have it!"
Advice on Downsizing
Downsizing is no small task, especially if it's been decades since you've moved. Many older adults put off downsizing, yet these Highgate residents say it actually feels better than you might initially think.
"Downsizing has made life so much better," Randy says.
Keith agrees:
"Downsizing is important. And it makes you feel good, too. Only bring things that really matter. You don't need a lot of junk."
Most Favorite Thing in the Apartment
Every Highgate apartment is as unique as the individual living in it. Sally's favorite part of her apartment is the window in the living room.
"We have the most beautiful view of Saddle Rock," she says.
For James, it's his cat, George.
"He has been with me for 10 years," James says. "I would never live anywhere without him. I like that everyone here likes George and treats him good, too."
Did you know that Highgate not only offers

pet-friendly environments

, but it has staff who help residents care for their pets, too!
Advice on Moving into a Senior Living Community
There can be a lot of trepidation when moving into a senior living community. You might be wondering if you'll make friends, if you'll be bored, if family or friends will come visit.
"Don't be discouraged," Sam says. "It feels like a lot, and the first week or so is overwhelming but don't give up on it. It just takes time to adjust. Once you give it time and keep a positive attitude, you will adjust and be quite happy."
Sally agrees: "Make the best of it. No matter what it is, make the best of it. Look at everything like a new adventure. Moving was a new adventure for us. A new stage. Look at it as a positive, and it will be."
"Come prepared to meet some nice people," Keith says. "I lived at another place, and faces were always changing. I couldn't get to know anybody. Y'all stay here, and it's good to have familiar faces and good friends. I am friends with the people that live here and work here, and that's great."
Highgate Helpers
Highgate has helped many seniors make the transition into assisted living, and the team members are happy to give tours, answer questions, and reassure new residents that they are committed to providing a warm, engaging place to live.
James had a stroke before he moved into Highgate, and he recalls having difficulty saying and remembering things.
"Everyone here was patient with me and never made me feel bad or self-conscious," he says. "Everyone was so patient while I was adjusting. Everyone here treated myself; my sister, Judy; and my cat, George, really well. They made my recovery so much easier."
Highgate team members helped make Sally's life easier, too:
"Jean [Wenatchee's Executive Director] was very welcoming. Everyone worked so hard to help us get moved in. Care partners even helped me organize my closet how I like it. That says a lot and impressed us."
Even though Sam and Marion had an evening move-in time, around 8 p.m., the Highgate team was there to help:
"We got here way later than expected, but you were here to welcome us," Sam recalls. "It meant a lot to us that you helped get the apartment set up for us, showed us around, and answered all of our questions, even that late in the evening. We weren't expecting it. You made a nice time out of a hard time."
More Moving Advice
Moving to a senior living community is a big step for all aging adults, but it can be particularly difficult for elderly men.
In Moving Dad, you'll read one adult daughter's experiences with caregiving and her father's move to senior living, based on true stories from Highgate residents and their families.