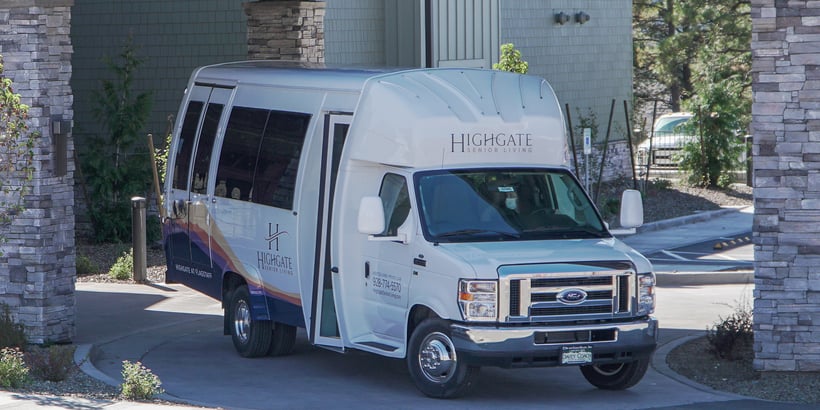 Jerry was an active senior — until he stopped driving due to poor eyesight. Then his world got a lot smaller.
"I didn't do anything until the kids took me places," says Jerry, referring to his adult children who lived nearby. "They tried to keep me as busy as possible, but most of the time, I was just sitting there."
For many seniors, giving up driving means a lot more than just not driving anymore. It also means letting go of the ability to visit friends, run to the store, take care of daily chores, and get out of the house. It means relying on others for transportation, which just adds to the fear many older adults already have of becoming a "burden."
If your aging loved one is ready to enter driving retirement, it's a great time to consider moving to an assisted living community that provides rides for residents. These communities understand that transportation enables residents to live more independently and ensures that older adults will be able to continue enjoying the activities they're accustomed to.
For example, when Jerry moved into Highgate at Great Falls, he gained access to transportation services through Highgate. Now he gets together with his buddies at a local coffee shop every Tuesday and plays the accordion at the senior center every Wednesday.
"My life has been pretty good since I moved to Highgate," says the 92-year-old. "I don't feel lonely anymore."
In this blog, you'll learn about driving anxiety in older adults, how transportation services help seniors maintain independence, and questions to ask when considering a community and its transportation services.
Fear of Driving in Older Adults
For some, driving is a freedom they hope to never give up. For others, driving has become a stressful, confusing, or exhausting activity that just isn't worth it anymore. In fact, fear of getting into an accident keeps many seniors at home, at the mercy of public transportation schedules, or reliant on family and friends who volunteer their time to make sure their loved one gets to the doctor or to the grocery store.
Aging adults will often go out of their way to avoid conversations about their driving. Maybe your dad didn't tell you about finding his keys in the freezer or getting lost on his drive home from church to keep you from worrying he's losing his memory. Or maybe he's more worried that if he tells you, his driving days will come to an end.
For many seniors, making the move to an assisted living community is not only a new beginning with easy access to friends, delicious meals, and purposeful activities, but if the community offers transportation services, it can also be an escape from the fears and worries that can accompany living at home alone.
Instead of being stuck at home because your loved one doesn't like driving or can't find a ride to an appointment, the community's transportation services allow older adults to be in control of how they choose to use their time.
It seems counterintuitive, but many people find that they have more independence and freedom in assisted living than they did living at home.
Assisted Living Transportation Services Offer Mobility and Freedom
Many senior living communities have an activity bus that transports residents to and from community outings, but if a resident needs a ride to a doctor's appointment, then they need to arrange transportation through family and friends.
Highgate Senior Living communities offer additional transportation services. Every Tuesday and Thursday, a bus takes residents to medical appointments. The rest of the week the bus shuttles residents to outings and activities. Residents can even make special transportation requests.
"I'm in charge of my Lunch Bunch luncheon," says Marjorie, a resident at Highgate at Great Falls. "It's on a Tuesday, so I can have the Highgate van get me down there."
Barbara, another Highgate at Great Falls resident, has also used the van to continue enjoying the activities she's accustomed to:
"I've asked to go to Jo-Ann fabrics and they took me, which is not an appointment for a doctor or anything, but they took me anyway."
Fellow Great Falls resident Laverne adds: "I like that we're always doing something different and that we can do it and do it safely because they take us in the van, it's so comfortable and easy to get in and out of and so forth."
For many residents, moving to an assisted living community didn't mean they had to completely change the way they lived. In fact, living in an assisted living community with transportation services has actually allowed them to get back to their active lifestyles.
Questions to Ask When Considering a Community and Its Transportation Services
Before deciding on an assisted living community, take a close look at its transportation program. Many communities coordinate transportation to shopping centers, religious services, outings, and many other daily activities, even on short notice. But not all communities are the same.
Here are a few things to ask about getting around:
Can residents arrange for transportation on fairly short notice?

Is transportation easily arranged to and from medical or dental appointments?

What types of outings does the activity director plan?

Is transportation readily available to shopping malls and restaurants?

Are nature outings planned?

Does the community provide safe and well-maintained transportation vehicles?

How are special appointments scheduled? Is there a cost?

Is the transportation wheelchair accessible?

What qualifications does the driver have? How are these verified?

Is the community required to provide or arrange transportation for medical and social purposes?
A Collection of Resident Stories
Want to hear from more Highgate residents about how assisted living helped them maintain their independence? Read our Hope & Happiness eBook, where Highgate residents, some of their family members, and a few Highgate team members share stories about life before Highgate and how moving into a community setting changed their lives for the better.